By Lauren Ciriac Wenger
The Hershey Story first opened in 1933 as the Hershey Indian Museum, and collected and exhibited only American Indian artifacts. We continue to preserve this collection today, and it's important for several reasons. It is representative of American Indian groups from regions throughout North America, including the Northwest Coast, Southwest, Northeast, Arctic, and Plains. It includes a large variety of items such as clothing, jewelry, hunting and fishing tools, ceremonial items, cooking and eating utensils, and baskets. Additionally, Milton S. Hershey founded the American Indian museum, making it an important part of Hershey history.
The Hershey Story's American Indian collection includes a multitude of baskets of many shapes and sizes. These baskets are both pieces of art, exhibiting the makers' artistry and skill, and serve important utilitarian, decorative, and ceremonial purposes.
Here is a selection of baskets from The Hershey Story's collection. You might be surprised at how some of these baskets were used.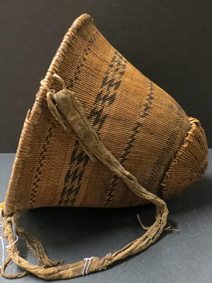 This is a burden basket, woven by the Pomo of California. The Pomo were particularly skillful at basketry, and this is an example of a commonly-made item. This basket served a utilitarian purpose only—to carry gathered plant food such as seeds and acorns. The strap would be worn across the chest or, more often, the forehead, with the tapered basket resting on the wearer's back.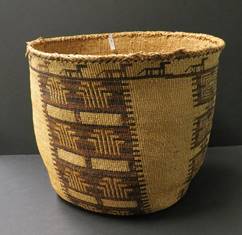 Made by the Skokomish of Washington state, baskets like the one on the right were used to store foods like acorns, hazelnuts, dried berries, and roots. It is made of materials that are plentiful to the region—grasses, cattail leaf, and cedar.  The dog pattern woven into the rim of the basket is a traditional Skokomish design.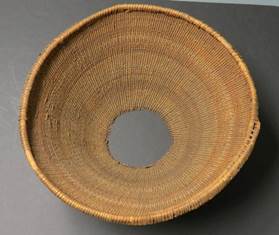 Why does this basket have a hole in the bottom? This is a "mortar basket", used by the Pomo to help contain grain or acorns (a staple food source for California American Indian groups) while they are being ground on a mortar, or grinding stone.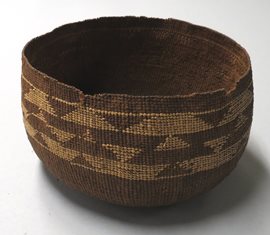 This basket was used for cooking soups, stews, and mush. Made by the Hupa of Northwest California, the basket is tightly woven to prevent liquid leaking out during cooking. Pitch was sometimes added as a sealant to make the basket even more watertight. Cooking was done by placing hot rocks into the stew, soup, or mush, causing it to boil. Once the rocks cooled, they would be removed and more hot rocks were added until the food was completely cooked.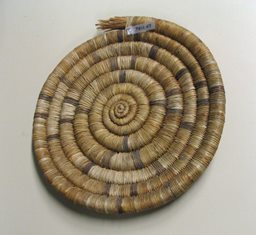 During wedding ceremonies, Hopi brides would carry a flat basketry tray ("plaque") covered in cornmeal. The plaque itself was a gift to the groom while the cornmeal was a gift for her mother-in-law and new family. You can see in the image that the end of the plaque is unfinished. Plaques were often purposely left unfinished for symbolic reasons. One known symbolic interpretation is that it is a wish for the groom to have a long life; another is that the maker of the basket was of childbearing age. This tray is made of yucca, a plentiful plant in Arizona where the Hopi people are from.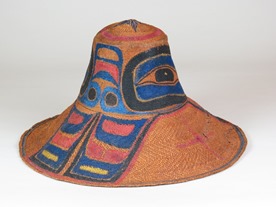 Basketry was even used to create clothing items. This hat was made by either the Tlingit or Haida. Hats protected wearers from the rainy Pacific Northwest climate. Painted hats like this one served an additional, ceremonial purpose. They were worn during celebrations and rituals such as those held during the Potlatch, a traditional gathering practiced by the indigenous people of the Pacific Northwest Coast. It was commonly held to commemorate births, weddings, deaths, and so on, and featured bountiful feasts and extravagant gift-giving that demonstrated the host's wealth and status.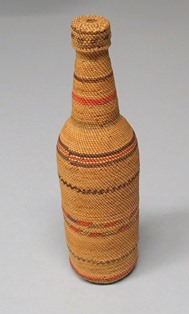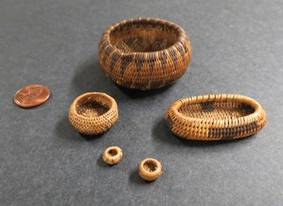 At the turn of the nineteenth century, partially initiated by the belief that American Indian cultures would disappear, American Indian basket collecting became popular with Euro-Americans. In response to this increasing interest, American Indians created basketry items specifically to sell. These tiny baskets, and glass bottle surrounded by basketry, were made for trade purposes and to show the artist's skill.
All of these baskets were collected by John G. Worth (1879-1940) during the early 1900s. Worth, a collector of American Indian objects, was originally from Philadelphia but lived in and traveled throughout the American West for nearly 20 years. In 1933, he approached Milton S. Hershey with the idea of opening a museum in Hershey, PA utilizing his existing collection of about 250 items. After the museum was opened, Worth continued to collect items for the museum at the direction of Mr. Hershey. He shipped the objects to Hershey via freight train, and was reimbursed after the items were delivered to the museum. Most of The Hershey Story's American Indian objects are part of this initial collection.