by Lauren Ciriac Wenger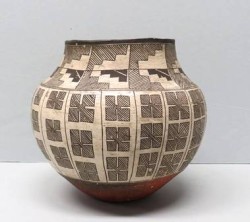 Though their ancestors can be traced as far back as 7000 BC, the Pueblo civilization flourished beginning around 750 AD. Pueblo people from long ago are referred to as "Ancestral Pueblo." They lived in what is commonly known today as the Four Corners region of the Southwestern United States—where Colorado, Utah, Arizona, and New Mexico meet. Modern-day Pueblo still reside in this region. The Pueblo are known for many things, including amazing architectural abilities seen in their cliff dwellings and kivas, a long history of agriculture, and Katsina dolls. Arguably one of the most well-known talents of the Pueblo people is their skill in pottery. The Hershey Story's American Indian collection includes a selection of Southwest pottery, both prehistoric and historic, made by the Pueblo.
Pueblo is a Spanish word meaning "town." When the Spanish made contact with the people living in the Southwest region around 1540, they referred to their villages as "pueblos," and thus the people came to be known as Pueblo as well. At the time of Spanish contact, there were more than 100,000 people inhabiting 100 towns and speaking over a half dozen languages. "Pueblo" is a term that encompasses many different groups, such as the Kewa (Santo Domingo) Pueblo, the Hopi, and A:shiwi (Zuni) Pueblo, just to name a few.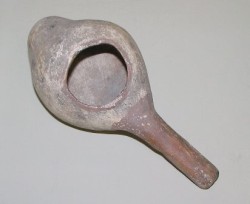 Clay vessels have been made by the Pueblo for around 2,000 years. Potters are usually women, who learn the art from their older female relatives. Pueblo pottery can be separated into two general eras—historic (beginning in the early 16th century after contact with Spanish settlers), and prehistoric (before contact). Pottery was made for three major reasons: utilitarian (cooking, storing of food and water, and serving); ceremonial; and artistic/trade purposes. Prehistoric pottery was utilitarian and ceremonial in nature. This continued into the historic era, along with a new development during the early 20th century—pottery made specifically for trade.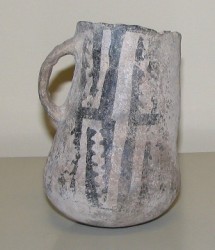 Black-on-White pottery is characteristic of the prehistoric era, and features white clay decorated with simple black designs using paint made from boiled plants or crushed rock containing iron, such as hematite. The Black-on-White style is usually seen on serving dishes such as mugs and bowls. Plain pots with no painted decoration were also made during this time and were used for cooking. Some of these pots have black sooty residue—evidence of their use over fire. Polychrome pottery, where multiple colors were used to decorate the surface, were also made in the prehistoric era but became more popular in the historic era, especially as more of a focus was put on the artistic quality of Southwestern pottery by collectors.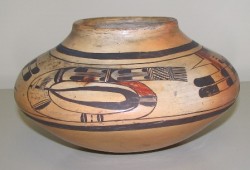 The first step in pottery-making is gathering the raw material. Clay was a natural resource in the Southwest. Since Pueblo religion was (and still is) based on maintaining harmony with nature, the gatherer would say a prayer of thanks while removing the clay from the ground. Prayers were also said while making the pottery, as it was considered a spiritual and creative process. The clay was then dried in the sun, and then rehydrated for several days, creating a clay solution, which was passed through a sieve to remove debris. The clay was then left to set for several days before use. Pueblo potters used a tempering agent in the clay, such as volcanic ash or ground up pieces of previously-fired pots. This helped prevent cracking of the pot while firing—the process in pottery-making during which clay hardens and sets.
The Pueblo created their pots through a coiling and scraping method. A long thin rolled piece of clay was spiraled to form the base, with additional coils added to create the walls of the pot. The coils were then smoothed using pieces of wood or gourds. To decorate the piece, potters would use brushes made of yucca or frayed twigs to apply pigments made of ground rock or boiled plants. The pots were then fired in a bonfire.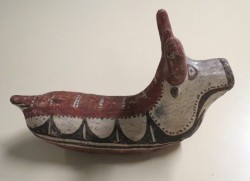 Designs seen on prehistoric Pueblo pottery include simple linear and geometric patterns. This tradition carried into the historic era. Many pots made during the 18th through the 21st centuries still feature geometric patterns. Other patterns include floral motifs, animals, and birds, or designs that represent other natural elements like rain and sky. Animal and nature designs may be connected to stories that have spiritual or historical significance. Sometimes the pieces themselves, such as pitchers and figurines, were made in the shapes of animals or human-like forms. Oranges, blacks, browns, whites, and reds are traditional colors seen in Pueblo pottery.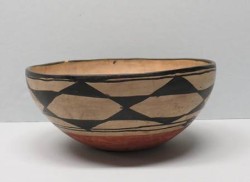 Though much of the creation process and style of Pueblo pottery is still the same today as it was during the prehistoric era, two events brought changes to the Pueblo pottery tradition. The first was the arrival of Spanish explorers. New forms of pottery emerged to meet changes in Pueblo culture due to Spanish influence. For example, the dough bowl was created for use in mixing and rising dough for bread. The Pueblo had previously made only unleavened corn tortillas; but the Spanish introduced wheat and yeast.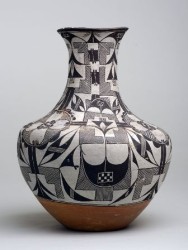 The development of the railroad system during the late 1800s was another major event that changed the Pueblo pottery tradition. With the railroad came tourists and collectors. Pueblo pottery was highly-regarded by collectors, and soon pieces were being made for the purpose of meeting this demand. With this came an increased focus on pottery as artwork. In the 1920s, talented potters began to sign their work. It was during this time period that John G. Worth, originally from Philadelphia, lived in the West and compiled his American Indian collection. Worth later sold this collection to Milton Hershey so that Mr. Hershey could open a museum for his town. The Hershey American Indian Museum, The Hershey Story's predecessor, opened in 1933. The same artifacts that were displayed there make up the holdings of The Hershey Story's American Indian collection today.