See a new artifact treasure
each week in the lobby.
Free to visitors.

On display April 6 – April 12, 2017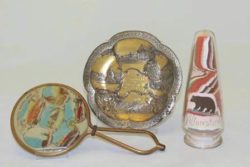 Yellowstone Souvenirs, 1909
In 1872, Yellowstone became the world's first national park. During the 1800s, relic and souvenir hunting became increasingly popular. In order to take a memento home with them, people removed pieces of larger structures, objects, or natural features. In response to this demand, and as a way to preserve important landmarks, the commercial souvenir market developed. Typical souvenirs included plates, spoons, and mirrors with images depicting the associated landmark. Other popular souvenirs were books, albums, and knickknacks such as the sand art seen here.
On display April 13 – April 19, 2017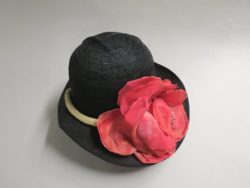 Hat, 1915-1925
Kolbenschlag's was a millinery, or hat shop, located on South Third Street in Harrisburg in the early 1900s. They sold a variety of hats for all seasons. This cloche hat was owned by Lillie S. Walton Fox, of Hummelstown, PA. Based on its material—straw—and its bright pink flower, it was likely worn in the spring and summer months.

On display April 20 – April 26, 2017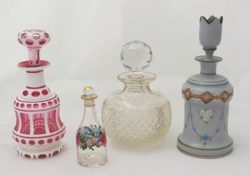 Toilet Bottles, 1830-1915
Toilet bottles, or perfume bottles, like these were used in the 1800s and 1900s to hold perfumes and eau de toilette, or "toilet water." While perfumes generally have a higher concentration of scent, eau de toilette contains more water and alcohol and less perfume extract, giving it a lighter fragrance. At this time most scents were derived from botanicals, including lavender, lemon, rose, bergamot and orange blossom. Towards the end of the Victorian era, spice oils and animal extracts like musk were added.
On display April 27 – May 3, 2017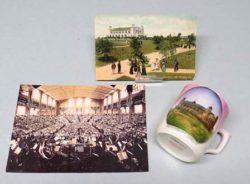 Convention Hall Souvenirs and Photograph, 1915-1930
The Convention Hall, located near Hershey Park, was built in April, 1915. Milton Hershey envisioned the hall as a place for people from Hershey and surrounding areas to enjoy meetings, festivals, and concerts. Some notable acts held at the Convention Hall were the Sistine Chapel Choir in 1923, Will Rogers in 1927, and John Philip Sousa in 1925, which is depicted in the photograph.
On display  May 4 – May 10, 2017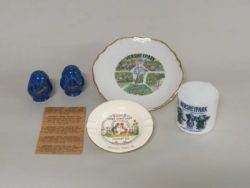 Hersheypark Tickets and Souvenirs, 1950-1985
On May 7, 1972, Hersheypark held its grand opening for the season. That year marked the completion of the first phase of a three-year redevelopment project to transform the park into a modern amusement park. Improvements were made to Carousel Circle, the Craft Barn (formerly Der Deitsch Platz) and the Aqua Theater. The previous year the park's name was changed from Hershey Park to Hersheypark. The park was fenced in and a one-price admission ($3.50 for adults) was charged for the first time.
On display May 11 – May 17, 2017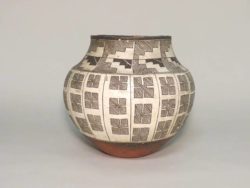 Acoma Pueblo Jar, 1880-1910
Women of the Acoma Pueblo, located in New Mexico, have been making pottery for centuries. White clay was rolled into long ropes, coiled, pressed and smoothed to build the walls of this storage jar, or olla.  Red slip, a slurry of clay and pigment, was applied to the base. Black decorations on the neck and body consist of geometric patterns with hatched lines, a common feature on Acoma pottery. Acoma Pueblo is the longest continuously inhabited community in North America. Residents live in the pueblo without electricity or running water.

On display May 18 – May 24, 2017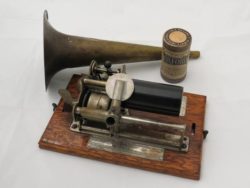 Graphophone and Cylinder, early 20th Century / Columbia Phonograph Company
The "graphophone" was a phonograph-type machine developed by Alexander Graham Bell, Chichester Bell and Charles S. Tainter in 1885. Originally marketed as an office dictation machine, it ultimately found success as a device for public amusement. The graphophone recorded and reproduced sound, about 2 minutes worth, on a grooved wax cylinder. The Columbia Phonograph Company went on to become Columbia Records. Follow this link to hear a "Melody of Jiggs and Reels" by violinist Charles D'Almaine. https://www.youtube.com/watch?v=WNeu_cOV4WE

On display May 25 – June 1, 2017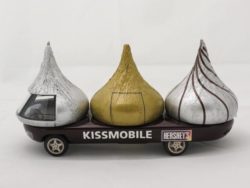 Hershey's Kissmobile Model, 1997
Twenty years ago, The Hershey Company created the Kissmobile to support and generate public awareness of the Children's Miracle Network.  CMN raises funds and awareness for Penn State Children's Hospital.