See a new artifact treasure
each week in the lobby.
Free to visitors.

On display June 1 – June 7, 2017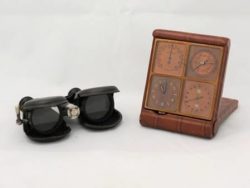 Milton Hershey's Opera Glasses and Travel Clock, 1900-1940
Milton Hershey spent quite a bit of time overseas in places like Europe, Egypt, and Mexico. This travel clock must have come in handy during his travels. It features readings for time, date and day of the week, temperature, and barometric pressure.  Always interested in the arts, Milton Hershey attended the opera and theater while abroad. Opera glasses were a common accessory and used to view the actors in more detail from a seat in the balcony. Both items were made in Paris.
On display June 8 – June 14, 2017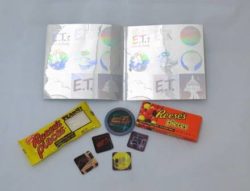 Reese's Pieces Packaging and E.T. the Extra-Terrestrial Promotional Items, 1978-1987
In the 1970s, Hershey Foods Corporation developed a formula for sweetened peanut meal with a chocolate-like consistency. In 1978, it became the key ingredient for Reese's Pieces. When Hershey agreed to feature the candy as "E.T.'s favorite candy" in the 1982 film E.T. the Extra-Terrestrial, they launched their biggest promotional campaign for a single brand to date. Promotional items included T-shirts, posters, collectible stickers and pins. The film was a summer box-office hit, and within the first two weeks of the film's release, sales of Reese's products tripled.

On display June 15 – June 21, 2017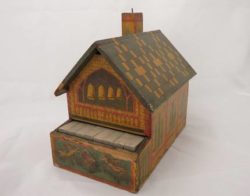 Musical Toy, c.1900
Lithographed, mechanical, and musical toys were popular playthings in the early 1900s. This wooden toy is covered in colorful lithographed paper, and made to look like a church. It has a functioning keyboard at the front.

On display June 22 – June 28, 2017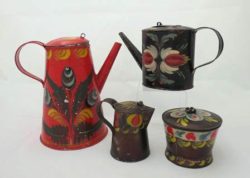 Toleware Coffeepot, Teapot, Sugar Bowl and Creamer, 1800-1875
The term toleware originates from the French phrase tôle peinte meaning "painted sheet metal." Toleware items are made of tinplate and decorated with varnish and oil paints. Toleware was a popular Pennsylvania German folk art, and traditionally features bold colors and floral motifs.

On display  June 29 – July 5, 2017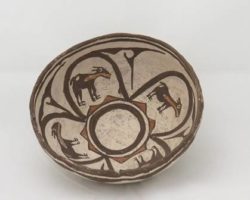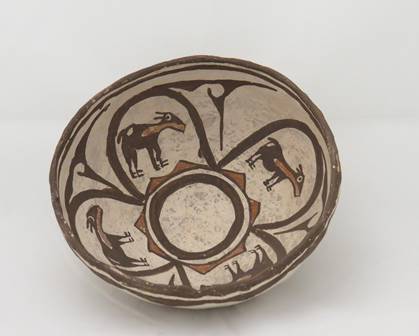 Bowl, A:shiwi (Zuni), 1880-1910
This bowl, made of clay and paint, depicts four goats, each one within the petal of a flower. The A:shiwi believe that all things in the universe have a spirit. This includes humans and animals, but also forces like lightning and wind, and natural objects like rocks and rivers. The line visible on each painted goat extending from their mouth to their heart is called the "heartline," which represents their life force or soul.
On display July 6 – July 12, 2017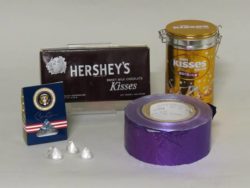 Hershey's Kisses and Box, 1928; Foil, 2002; Tin, 2012; Presidential Box, 2013
Hershey's Kisses were introduced in July 1907. Their iconic shape and silver foil wrapper have remained constant during their 110-year history. The first new flavor, Hershey's Kisses with Almonds, wasn't introduced until 1990 and there has been an explosion of new flavors ever since.  New flavors meant new foil colors were used to wrap the bite-sized confections. Hershey's Kisses made their debut in China in 2012, becoming a world-wide treat. Even former President Barack Obama couldn't resist Hershey's Kisses!

On display July 13 – July 19, 2017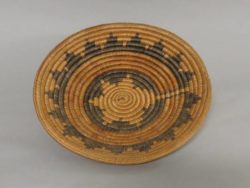 Diné (Navajo) Wedding Basket, circa 1925
The coils of the ceremonial basket represent the life path of the Diné people. At the center is the sipapu which symbolizes the place where the Diné entered this world through a reed. Birth is signified by the white, inner coils. The black coils denote darkness, struggle and pain. Marriage is represented by the red coils, where your blood mixes with the blood of your spouse to create your family. The line break in the design is a reminder that there is always a pathway through the darkness to the light. During ceremonies, this line is oriented to the east.

On display July 20 – July 26, 2017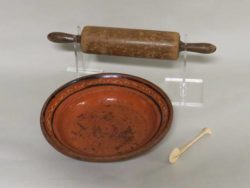 Pie Pan, Rolling Pin and Jagging Wheel, early 19th century
Which is your favorite – apple, cherry, pumpkin, or chocolate cream pie?

On display July 27 – August 2, 2017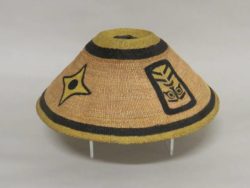 Tlingit Hat, late 19th century
This double twined cedar bark hat consists of inner and outer hats that connect at the crown.  It's domed shape and tight weave make an excellent defense against the rainy climate of the Northwest Coast of North America where the Tlingit live.