See a new artifact treasure
each week in the lobby.
Free to visitors.
On display  March 9 – March 15, 2017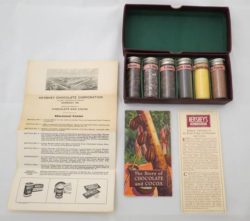 Education Kit, 1948
Teachers could request an education kit, like this one, to help explain how Hershey's made milk chocolate. This kit contains samples of cocoa beans from each stage of processing. A booklet tells the story of chocolate and cocoa in greater detail. Also included was information about the food values of chocolate and cocoa.

On display March 16 – March 22, 2017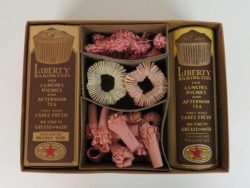 Hostess Set, 1925-1930
Liberty's Household utility package added the perfect finishing touches to any lunch or dinner. The set includes muffin cups, teacake cups, croquette skewers, lace paper doilies, pie collars, chop frills, a small recipe book and instructions.
On display March 23 – March 29, 2017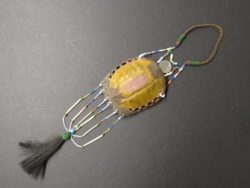 Breastplate, 1880-1930
Breastplates were traditionally used as armor for protection during battle. This Plain's Indian breastplate was likely used for decorative, medicinal or ceremonial purposes. It is made out of a turtle shell with bone and glass beads, leather, horsehair, fabric and mirror fragments.

On display March 30 – April 5, 2017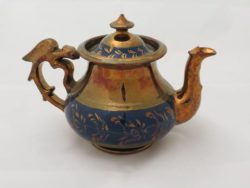 Copper Luster Teapot, 1820-1860
Copper lusterware was popular around the United States in the early to mid-nineteenth century. It was made by applying a copper solution to a piece of pottery before firing. Used to imitate pieces of precious metals, silver and gold lusterware was also produced but copper was the most popular.  Most lusterware was created with several bands of color and different design elements.

On display April 6 – April 12, 2017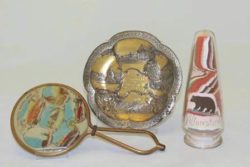 Yellowstone Souvenirs, 1909
In 1872, Yellowstone became the world's first national park. During the 1800s, relic and souvenir hunting became increasingly popular. In order to take a memento home with them, people removed pieces of larger structures, objects, or natural features. In response to this demand, and as a way to preserve important landmarks, the commercial souvenir market developed. Typical souvenirs included plates, spoons, and mirrors with images depicting the associated landmark. Other popular souvenirs were books, albums, and knickknacks such as the sand art seen here.
On display April 13 – April 19, 2017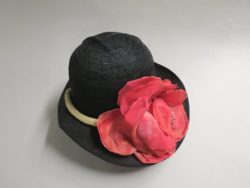 Hat, 1915-1925
Kolbenschlag's was a millinery, or hat shop, located on South Third Street in Harrisburg in the early 1900s. They sold a variety of hats for all seasons. This cloche hat was owned by Lillie S. Walton Fox, of Hummelstown, PA. Based on its material—straw—and its bright pink flower, it was likely worn in the spring and summer months.

On display April 20 – April 26, 2017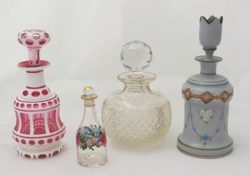 Toilet Bottles, 1830-1915
Toilet bottles, or perfume bottles, like these were used in the 1800s and 1900s to hold perfumes and eau de toilette, or "toilet water." While perfumes generally have a higher concentration of scent, eau de toilette contains more water and alcohol and less perfume extract, giving it a lighter fragrance. At this time most scents were derived from botanicals, including lavender, lemon, rose, bergamot and orange blossom. Towards the end of the Victorian era, spice oils and animal extracts like musk were added.
On display April 27 – May 3, 2017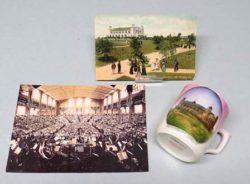 Convention Hall Souvenirs and Photograph, 1915-1930
The Convention Hall, located near Hershey Park, was built in April, 1915. Milton Hershey envisioned the hall as a place for people from Hershey and surrounding areas to enjoy meetings, festivals, and concerts. Some notable acts held at the Convention Hall were the Sistine Chapel Choir in 1923, Will Rogers in 1927, and John Philip Sousa in 1925, which is depicted in the photograph.