See a new artifact treasure
each week in the lobby.
Free to visitors.
On display December 29, 2016 – January 4, 2017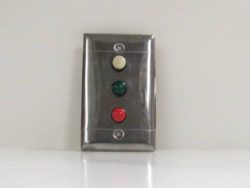 Weather Indicator, 1935
The white, green and red light indicators informed employees working inside the Windowless Office Building of the weather conditions outside. When the building, located at 19 E. Chocolate Avenue,  was completed in September 1935, it was considered a marvel of modern engineering and office building design. The art-deco style building had no windows and featured central air conditioning for employee comfort. The weather indicator system was removed in 2015 during renovations that included adding windows and skylights.
On display  January 5 – January 11, 2017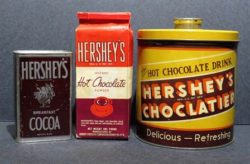 Hershey's Cocoa Packaging, 1930-1940
Cocoa powder is what is left of ground cocoa nibs after most of the cocoa butter is extracted. Cocoa was one of the first products manufactured by Milton Hershey, beginning in 1894.  It was used as a flavoring for things like drinks, syrups, icing, and baked goods. Instant drink mixes were developed later as convenience products. Instant cocoa contains added sugar, while hot chocolate powder contains both added sugar and powdered milk, and usually, vanilla.

On display January 12 -January 18, 2017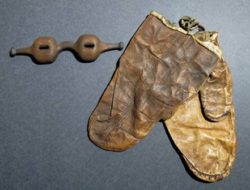 Inupiat (Eskimo) Goggles and Mittens,  c. 1900
The weather in Alaska, where the Inupiat people hail from, can get very cold. The Arctic winters are particularly harsh. Goggles like these kept the blowing snow out of their eyes, and were used especially while hunting. These mittens are made of seal skin and are waterproof, protecting hands from icy cold water and wind.
On display January 19 – January 25, 2017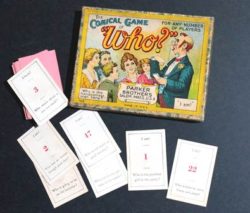 The Comical Game of "Who?" Card Game, c. 1910
The Comical Game of "Who?," made by the well-known game manufacturer Parker Brothers, was an early-1900s party game. The cards feature a variety of funny questions. The point of the game is to create a round of questions and answers read in numerical order. The directions say, "The fun caused by the ridiculous questions and answers can be imagined when the game is played by a lively company."
On display January 26 – February 1, 2017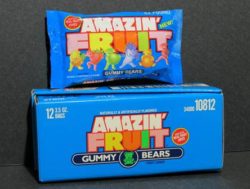 Amazin' Fruit Gummy Bears Packaging, 1992
Hershey Chocolate, U.S.A. introduced Amazin' Fruit gummy bears in original and tropical flavors in 1992 and super fruits flavors in 1995. The product's  television commercial featured gummy bears dancing in a conga line. In 2002,  some of Hershey's non-chocolate candy products, including Amazin' Fruit, were sold to Farley's & Sathers Candy Company, Inc.
On display February 2 – February 8, 2017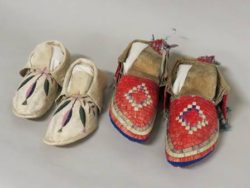 Moccasins, Eastern Woodlands, 1850-1900 (left)    Moccasins, Niitsitapii (Blackfoot), 1875-1925 (right)
Moccasins were the traditional footwear of North American Indians. Designs varied in style from group to group. Traditionally, women used porcupine quills dyed with natural materials to decorate the uppers. The colors often faded, as can be seen on the moccasin on your right. Contact with Europeans brought trade goods, such as brightly colored glass beads, which became the preferred material for decorating moccasins.

On display February 9 – February 15, 2017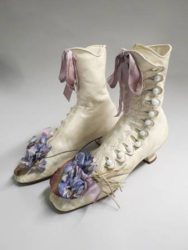 Shoes, 1875-1885
These white, kid leather shoes were worn by Caroline S. Walton of Hummelstown, PA.  Adorned with purple silk flowers and ribbons, the shoes were likely worn for a special occasion. Kid leather, or kidskin, is made from the hide of goats and is soft and supple, yet strong. In the late 19th century, men's and ladies' gloves were often made of kid leather. Around the same time the phrase "to handle with kid gloves" was used as a metaphor meaning "to handle carefully."

On display February 16 – February 22, 2017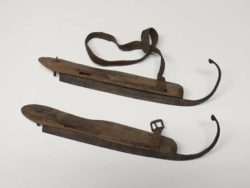 Ice Skates, 1820-1860
During wintertime, ice skating on frozen ponds, lakes and rivers was a popular activity for boys, girls, men and women living in the 19th century. These skates were secured with leather straps over the wearer's shoes.

On display February 23 – March 1, 2017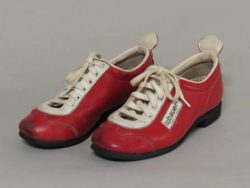 Curling Shoes, 1965-1985
This pair of curling shoes has special soles to slide on the ice.  To play, two teams of four persons take turns sliding 40-pound granite stones on an ice sheet toward a target of four concentric circles, known as "the house." The goal is to earn as many points as possible by placing the team's eight stones closest to the center of the house. When the Hershey Curling Club formed in 1961, matches were held at an outdoor ice rink near the Hershey Sports Arena.