See a new artifact treasure
each week in the lobby.
Free to visitors.

On display October 12 – 18, 2017
Ancestral Pueblo Mugs and Dipper, AD 900-1300
The Ancestral Pueblo were a prehistoric American Indian civilization that inhabited the present-day Four Corners region of the United States where Colorado, Utah, Arizona, and New Mexico meet. Early decorated Pueblo pottery featured black designs made of mineral paint on a white or light gray background, as seen on these mugs. Mugs probably had both ceremonial and everyday uses. Prior to making pottery, Pueblo people made ladles or dippers from gourds, which this clay dipper resembles. They were used to transfer water or food from one container to another.
On display October 19 – 25, 2017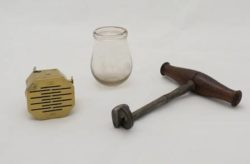 Scarificator, Cupping Bowl, & Tooth Extractor, c. 1850
Bloodletting—purposely drawing blood as a treatment for illness— was common until the mid-19th century. It was based on an Ancient Greek belief system of "four humors" in the body—blood, phlegm, black bile and yellow bile. These, when in balance, led to good health. When out of balance, they caused illness. To perform bloodletting, a doctor made shallow cuts on a patient's skin using a scarificator with small spring-loaded blades. He then drew blood using suction created by glass cups and heat. Before the 20th century, doctors did not specialize in any one type of medicine, but instead treated all types of illness, and even performed dental procedures like tooth extractions.

On display October 26 – November 1, 2017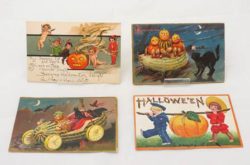 Halloween Postcards, 1908 and 1909
Postal law originally permitted only an address on the back of postcards, forcing the sender to write their message on the front picture. In 1907, laws changed to allow space for both a message and address on the back, leaving the picture intact. This started the "Golden Age of Postcards" (1907-1915). Sending and collecting postcards became a hobby and an easy way to stay connected to friends and family. Millions were sent in the United States during this time. The 1908 and 1909 postmarks on the backs of these Halloween postcards show that they were sent shortly after the "Golden Age" began.

On display November 2 – 8, 2017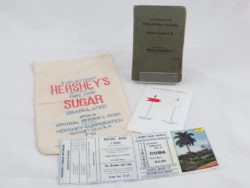 Hershey Cuban Railway Regulation Book and Timetable, 1924-1930; Sugar Bag, 1926-1946
In November 1922, the Hershey Cuban Railway, Ferrocarril Cubano de Hershey, was completed along the northern coast of Cuba. In 1918, Milton Hershey had established a model town and mill in Cuba around the production of sugar – an essential ingredient in milk chocolate. The electric railway connected the town of Hershey to the port cities of Havana, to the west, and Matanzas, to the east. The trains served both the sugar mill and passengers, hauling over 1 million tons of freight and 400,000 passengers in a single year! Want to learn more? Check out a new special exhibit, "Mr. Hershey's Cuba: A Sweet Venture in Sugar" in March 2018.

On display November 9 – 15, 2017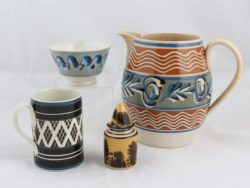 Mochaware Bowl, Pitcher, Mug and Mustard Pot, late 18th – early 19th
First produced in England and later in North America and France, mochaware pottery is characterized by bands of brightly colored slip – liquid clay – with tree-like patterns and incised geometric designs on a white or cream colored clay body. Pattern names include seaweed, cat's eye, twig, earthworm, tobacco leaf, agate and checker. At the time, mocha decorated wares were utilitarian kitchen items found in taverns and modest homes.
On display November  16 – 22, 2017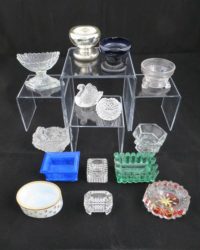 Saltcellars, 19th century
A saltcellar was a small dish found in kitchens or placed on dining tables that contained salt. During lavish dinners, each diner had a saltcellar as part of their place setting. After the invention of the salt shaker, use of saltcellars fell out of fashion. Saltcellars made of pressed glass with elaborate designs in bright colors became collectible in the late 19th and early 20th centuries. Their petit size meant collectors could acquire numerous examples and display them in a small space.
On display November 24  – 29, 2017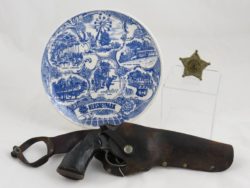 Prop Gun and Holster, Souvenir Badge and Plate, 1980-2000
Construction of Hersheypark's Dry Gulch Railroad began in 1960. The steam engine, "Little Toot," took passengers on a one-third of a mile long ride through the park. By the early 1980s, the Dry Gulch Railroad had a new route. Passengers traveled through a gold mine, an American Indian village and a Wild West ghost town in the Pioneer Frontier section of the park. Two actors held up the train in the ghost town using prop guns and blanks. Visitors were also treated to an animatronic piano player, named Benny, and a water spitting snake.

On display November 30 – December 6, 2017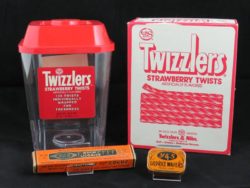 Y&S Licorice Packaging, 1977; Twizzlers Box and Container, c. 1980
Y&S Candies has been making licorice and licorice-type treats since 1845. So what does Y&S stand for? Young and Smylie! Forty years ago The Hershey Company acquired Y&S Candies, which makes America's favorite licorice-type sweet, Twizzlers. Only the black candies made with licorice root or anise flavoring can truly be called licorice. Twizzlers are made in Lancaster, PA and Memphis, TN. They come in a variety of flavors, such as strawberry, cherry and chocolate, in addition to traditional black licorice.

On display December 7 – 13, 2017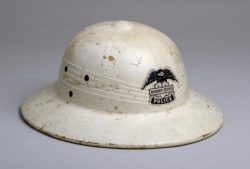 Hershey Estates Police Helmet, 1950-1976
In 1927, Hershey Estates was established to handle all non-chocolate business in Hershey. One function was to oversee public safety. Members of the Hershey Estates Police wore this pith-style helmet. They patrolled Hershey Park and other Hershey properties. The Derry Township Police force was organized in 1966 as a response to the township's expanding development outside of the Hershey "village." Hershey Estates Police disbanded in the mid-1970s.

On display December 14  – 20, 2017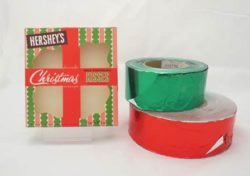 Hershey's Christmas Kisses Box, 1962-1969 and Foil, 2003
Hershey released special red, green and silver wrapped Kisses for Christmas for the first time in 1962. The iconic Hershey's Kisses Christmas commercial, with a red, green and silver Kisses "hand bell choir" playing "We Wish You a Merry Christmas," first aired in 1989 and has aired every year since.
On display December 21 – 27, 2017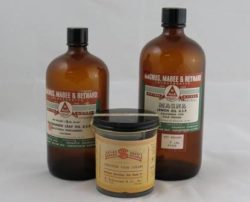 Taffy Ingredients, 1972
The Experimental Candy Kitchen opened in 1939 in the basement of the Convention Hall, and provided training opportunities for Milton Hershey School's culinary students. When it closed in 1968, Glenn and Ruth Hoffer, owners of Glenn Hoffer Candies in Hummelstown, PA, purchased their taffy making equipment. They used these flavorings and food dye in their recipes. Hoffer Candies supplied taffy to Hersheypark until 1972.

On display December 28, 2017 – January 3, 2018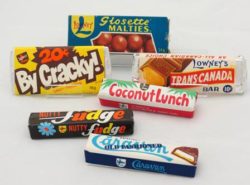 Lowney Product Packaging, 1960-1985
In 1987, Hershey Canada, Inc., a subsidiary of Hershey Foods Corporation, purchased the assets and trademark rights of Nabisco Brands Ltd.'s Canadian confectionary business. This included products sold under the Lowney brand. A variety of products made originally by Lowney are seen here, including Trans-Canada, a caramel-filled chocolate, and By Cracky!, a crispy rice chocolate bar.