The Hershey Story provides a distinctive atmosphere and a unique location to host your next social gathering, corporate event, or party.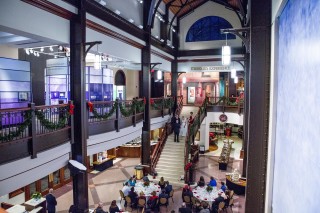 Designed to accommodate groups of up to 200 people, The Hershey Story is a beautiful venue for your upcoming event. Add a private tour of the Museum Experience or a class in the Chocolate Lab to enhance your guests' experience at The Hershey Story.
Frequently Asked Questions
Who can host an event at The Hershey Story?
The Hershey Story welcomes corporate and individual patrons.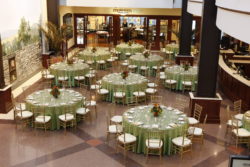 What is the maximum capacity?
The Hershey Story can accommodate 100 guests for a buffet, 120 guests for a plated dinner and up to 200 guests for a standing reception.
What kind of events can be accommodated at The Hershey Story?
Almost any kind of event! The Hershey Story is a unique place to hold galas, fundraisers, holiday parties, corporate events, Bar/Bat Mitzvahs, and wedding receptions.
Does The Hershey Story have an approved list of caterers?
Yes, please contact us for more information.
What unique features can be added to enhance our experience?
To make an event more special, add a private tour of the Museum Experience, customize your own truffles in the Chocolate Lab or savor delicious warm drinking chocolates in Tastings: Chocolate From Around the World.
Can food and beverage be served in the exhibit areas?
No. We ask that food and beverages remain in non-exhibit areas.
Can the exhibits be moved?
Due to climate and lighting factors, the exhibits cannot be moved or altered in any way for private events.
Is there parking available at The Hershey Story?
There is plenty of free, public parking.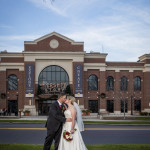 What are the available hours to rent The Hershey Story?
Events may begin one hour after regular operating hours and must end by 10:00 p.m. Our hours vary, please check here. Contact Felicia Krisciunas at FeKrisciunas@HersheyPA.com or 717.534.8645 to coordinate your event.
What is the rental fee?
Our rental fee of $3,000 includes use of the Grand Lobby, Museum Experience and Special Exhibit Gallery (when not under construction). Guided tours, Chocolate Lab and Tastings: Chocolate From Around the World may be added for additional fees.