The Living Legacy of Milton Hershey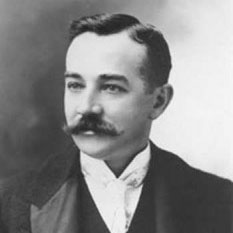 Milton Hershey at age 30, 1887
"One is only happy in proportion as he makes others feel happy." Milton Hershey wrote this as a young man. Many years later, he had a chance to put that philosophy into practice.
In the final gallery, visitors meet Milton Hershey the philanthropist, whose helping hand touched countless lives—and whose legacy lives on. They see the fruits of the remarkable M.S. Hershey Foundation, which has supported educational and cultural opportunities since 1935.
Displays highlight Hershey's support of public schools, his gifts to local churches in the depths of the Depression, and the Penn State Milton S. Hershey Medical Center, established after Milton Hershey's death, but reflecting his concern for the community's well-being.