The Hershey Story holds, in public trust, artifacts related to Hershey history and American Indian and Pennsylvania German cultures.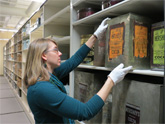 At the core of our mission, we collect, preserve and interpret these artifacts for the benefit of the public. The volume of artifacts, and fragile nature of some pieces, prevent us from displaying all pieces at the same time. When not on display, artifacts are placed in a controlled storage environment where they are preserved for future generations. Other cultural and educational organizations may borrow artifacts on a temporary basis. Researchers are invited to use the collections by appointment; however, the storage facility is not open to the general public.
The Hershey Story shares information about its collection through print and social media, such as Facebook, Twitter and Instagram.
Read the Curator's Corner blog each month and learn about the collections and other related topics
Hershey Collection

Milton Hershey would probably be surprised to find a museum about himself, his community and his chocolate company, but his legacy is one that needs to be shared. The museum began accepting Hershey-related artifacts shortly after Mr. Hershey's death in 1945. Over the years, they have become the main focus of the collection.