Our scholastic programs are perfect for field trips for homeschool children & align with Pennsylvania curriculum standards.
Bring your kids to The Hershey Story and discover all things Hershey — the man, his business, the town, and the chocolate — in an active, hands-on way! Our unique programs reach far beyond history to include economics, geography, science, math and reading.
Join us for Homeschool Day
SOLD OUT!
Wednesday October 18, 2017

9 a.m. – 1 p.m.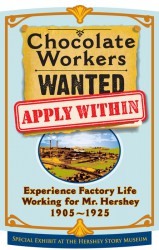 Take a step back in time! Experience what it was like to be a factory worker at The Hershey Company from 1905-1925. The interactive components in this exhibit will allow students to "try" different jobs at the chocolate factory. Activities will also include a scavenger hunt throughout the museum and a trip to the Chocolate Lab to learn about cacao beans from around the world and make a delicious candy bar.
Recommended for ages 4 and up. Children 2 and under are free.
$10 per person; SOLD OUT!
Deadline is Tuesday October 17, 2017 at noon.
Please bring your printed tickets to the registration table at The Hershey Story Museum. You must arrive by noon to receive your timed ticket(s) to the Chocolate Lab and scavenger hunt.
If you have any questions, please contact Kim at kaday@hersheystory.org or 717-520-5588.
__________________________________________________________________
Homeschool Programs Offered During the School Year
The Museum Experience exhibit space offers a variety of curriculum-themed "Museum EduQuest" hunts for children in preschool through Grade 12.
In the Chocolate Lab, students can learn and participate in a variety of classes…and they all include a take-home chocolate treat! From "Assembly Line Adventure" for younger students, to"Temper, Temper" for high school students, the Chocolate Lab offers participatory classes for all students.
Homeschool groups of 10 or more students are welcome Monday through Friday during the school year. Admission rates for these groups are as follows:
Museum Experience EduQuest (1 hour): $7.50
Chocolate Lab Class (45 min): $7.50
EduQuest and Chocolate Lab (2 hour): $10.00
Chaperones: One adult is admitted free for every five students. $9.00 for each additional adult
Schedule your homeschool group today! Make your reservation request here.