Our scholastic programs are perfect for field trips for homeschool children & align with Pennsylvania curriculum standards.
Bring your kids to The Hershey Story and discover all things Hershey — the man, his business, the town, and the chocolate — in an active, hands-on way! Our unique programs reach far beyond history to include economics, geography, science, math and reading.
_________________________________________________________________
Join us for a special program, created just for
homeschool and virtual learning families,
every Tuesday in April!
Have a group of 15 or more? Schedule a private class!
Contact Elizabeth at 717.520.5588 or elalindsay@hersheystory.org to book.
Every Tuesday in April
at 9:30 a.m. OR 11:30 a.m.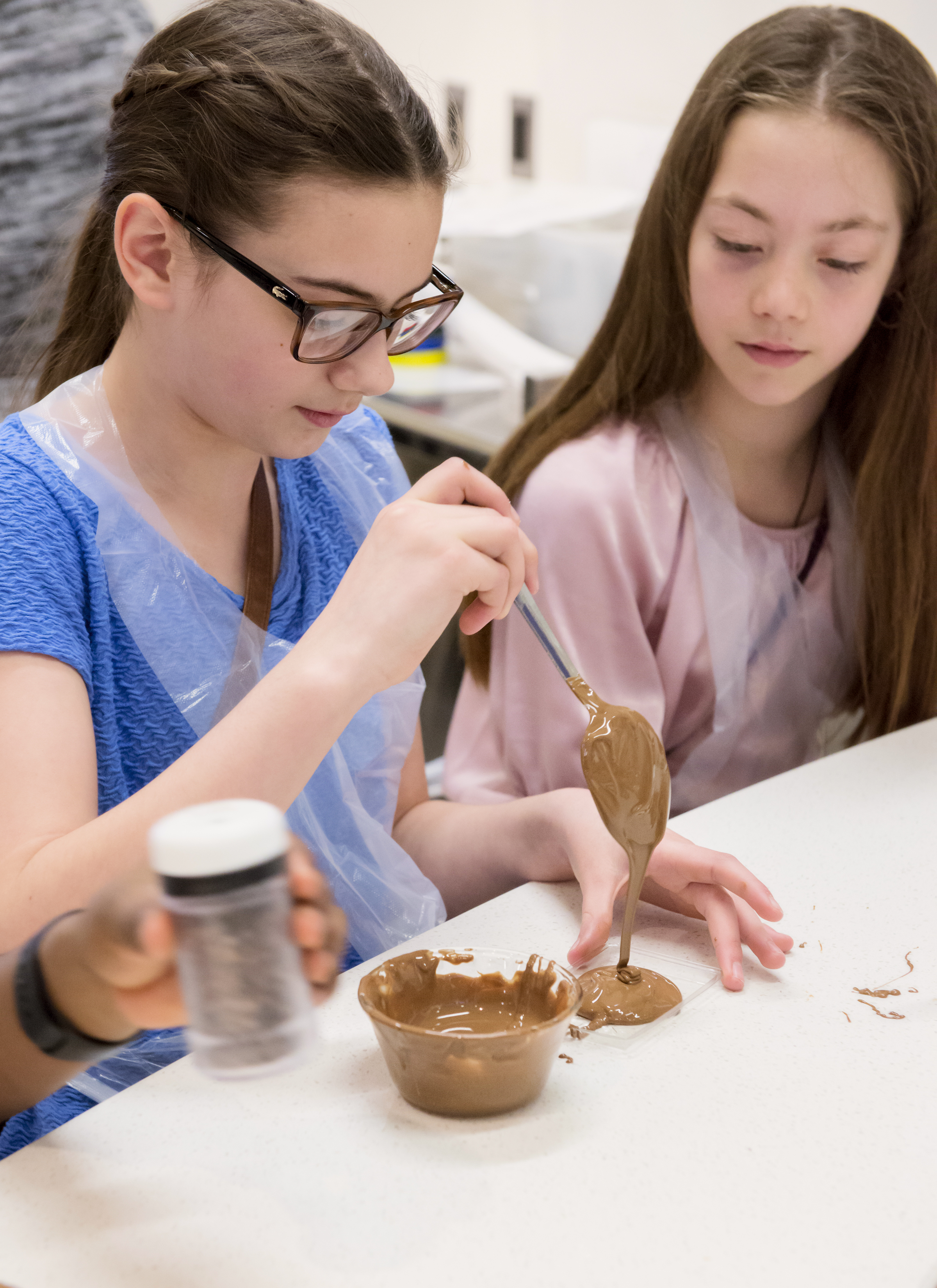 Join us for a special one-hour hands-on program, just for homeschool and virtual learning families! Bring the whole family to participate in a "Taste Sensations" learning adventure, where they will:
– Make their own chocolate creations,
– Try single origin chocolates from around the world,
– Participate in activities focused on taste and how Hershey's chocolate gets its special flavor.
Each session will be open for a limited number of participants and will take place in a large classroom to allow plenty of space for each family. All social distancing and health protocols will be in place including utilization of single-use items and thorough sanitizing of reusable items and the classroom between each session.
Families may explore the Museum Experience with special "Taste Sensations" scavenger hunts before and/or after the session. Therefore, we recommend allowing at least 90 minutes to 2 hours for the whole experience.
$10 per person for everyone ages 3 and older.
Purchase tickets here.

At least one adult is required to register with each family.
Deadline for tickets is the day prior to each program
Space is limited.
Questions? Please call Elizabeth at 717.520.5588 or email at elalindsay@hersheystory.org.
_________________________________________________________________
Homeschool Programs Offered During the School Year
The Museum Experience exhibit space offers a variety of curriculum-themed "Museum EduQuest" hunts for children in preschool through Grade 12.
In the Chocolate Lab, students can learn and participate in a variety of classes…and they all include a take-home chocolate treat! From "Assembly Line Adventure" for younger students, to"Temper, Temper" for high school students, the Chocolate Lab offers participatory classes for all students.
Homeschool groups of 15 or more students are welcome Monday through Friday during the school year. Admission rates for these groups are as follows:
Museum Experience EduQuest (1 hour): $7.50
Chocolate Lab Class (45 min): $7.50
EduQuest and Chocolate Lab (2 hour): $10.00
Schedule your homeschool group today! Make your reservation request here.