Milton Hershey's instinct for promotion was an essential ingredient in his success.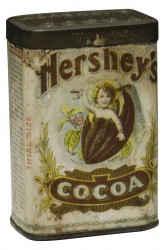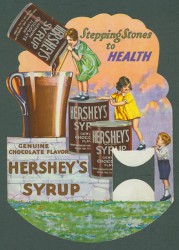 Milton Hershey understood that even excellent products won't sell if nobody knows about them. From extraordinary artwork on packages, to colorful postcards wrapped inside each chocolate bar, Hershey was a master of making his wares and his name famous.
Five freestanding pillars highlight various fascinating themes, from Hershey's emphasis on the purity and health benefits of his chocolate to the unprecedented way he used the town of Hershey to promote his products…and used his products to promote the town. These fully interactive displays invite visitors to explore both the extraordinary artwork and the innovative ideas that made Hershey's promotions so powerful.
Exhibits focus mostly on the decades before The Hershey Company began using mass media in the 1970s. A particular highlight is a streetscape with three 1920s-style storefronts. Each features elaborate displays designed to attract customers into shops. These original artifacts will change seasonally—just as they once did in real shop windows.
The Power of Promotion concludes with a timeline of products from 1894 to today. Find out when your favorite Hershey product made its debut.