by Lauren Ciriac Wenger
The 1800s was a time of incredible development, expansion, and change in America. Important historic events occurred during this century—the Library of Congress was established, the Civil War was fought, the Statue of Liberty was gifted to the United States by France, and Yellowstone, the first National Park, was signed into law by Ulysses S. Grant. It was a time of national exploration and expansion also, including the Louisiana Purchase, the Lewis and Clark Expedition, the creation of the National Road, and building of the transcontinental railroad system. There were celebrations of culture and innovation, such as the World's Fairs in New York, Philadelphia, and Chicago. National pride boomed.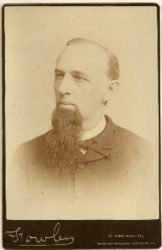 Along with this pride and interest came a desire to collect things as a way to keep the past alive, learn more about the surrounding world, and feel connected to the nation's captivating history and environment. The things people collected tended to be pieces of larger structures, objects, or natural features that were associated with important places, people, or events. Not only did they collect natural specimens such as rocks and sand as mementos from places they visited—they took actual pieces of buildings, statues, and even garments or other objects! These types of items are referred to as relics. The collector carefully labeled each item with information explaining its origins, and displayed the items in their home or kept them neatly tucked away in a container.
Some collectors made their displays open to the public in order to share their knowledge, even opening small "museums" of their own. In fact, the original owner of one of The Hershey Story's founding collections, George Danner, did just that. Danner collected Pennsylvania German items, as well as "curiosities". One anecdote says that his initial interest in collecting began after he combed the Gettysburg battlefield for relics of the war. He enjoyed showing people his collection and explaining the objects' histories. Most of the objects classified as relics and souvenirs in The Hershey Story's collection (a sampling below) come from Danner's collection.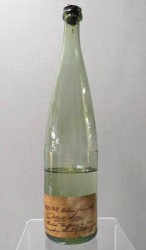 Many people collected samples of natural objects from the environment such as rocks, flowers, or sand, as mementos of places they traveled—especially if the natural object itself was famous. This bottle is filled with water from the Dead Sea. According to its paper label, it was filled by Charles Huffnagle on Wednesday, February 3, 1847.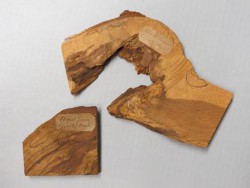 The Charter Oak of Hartford, Connecticut was a large white oak tree. If you've ever seen the Connecticut state quarter before, you may have noticed an image of the tree on one side. According to legend, it got its name because it was used to hide the Charter of 1662, which outlined the governance of Connecticut, from Sir Edmund Andros, an English colonial administrator who sought to take control of the colony. In 1856, the Charter Oak fell during a severe storm. Even prior to this event, people had taken pieces of the tree as souvenirs. After the storm, people came in droves to collect fragments. Additionally, many things have been made from salvaged pieces of the oak, from furniture to chess sets to cuff links.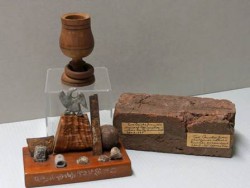 Civil War artifacts, including an assemblage of Gettysburg battlefield relics, a brick from Appomattox, and a goblet made of wood from the famous Peach OrchardObjects associated with major historic or political events were sought-after. The Civil War was an important event in American history, and people who lived through it wanted to remember this turning point. After the battles occurred, people looked for relics on the battlefields. George Danner collected the items in the assemblage pictured here, which includes bullets, musket balls, a cast metal eagle figure, and a piece of bayonet. The brick is "from the House at Appomattox where Gen. Lee Surrendered, Apr. 9, 1865", according to its handwritten label. The label on the goblet says, "This I bought from the owner of the famous Peach Orch[ar]d, Gettysburg, Pa….bought Sept. 1896, 25¢". The peach orchard in reference was the site of a major Confederate assault on July 2, 1863 during the Battle of Gettysburg.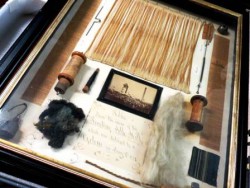 Scavenging for relics after natural disasters also occurred. This photo shows an assemblage of objects collected by George Danner after the Grimshaw Silk Mill in Reading, PA was hit by a tornado in 1889. The puzzle-like items (below) are pieces of flooring from the old Pennsylvania State Capitol building after it burned down in February, 1897.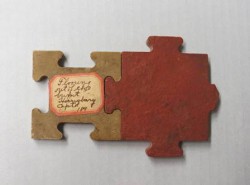 The chipping away of one-of-a-kind historic sites and objects by people who wanted to take home a piece of history became quite widespread and problematic during the 1800s. The souvenir market was a welcome answer. Manufactured souvenirs soon took the place of relic hunting, with souvenir shops opening near important landmarks.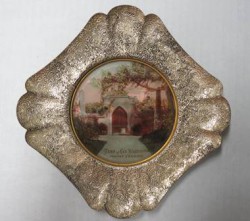 Mount Vernon estate, and President George Washington's tomb located there, were (and still are) popular historic sites. Things related to President Washington were always in high demand. Understanding the draw of Mount Vernon, souvenirs were sold there as early as the mid-19th Century. This silver plated tray from 1892 features an image of Washington's tomb at the center, and has a hook on the back for hanging.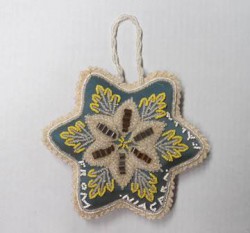 These are examples of early souvenirs from famous destinations—Yellowstone National Park, and Niagara Falls. The Yellowstone sand art souvenir from 1909 is filled with "colors of the Grand Canyon…Contents of this bottle guaranteed to contain no artificial coloring". The decorative pillow from 1901 features a floral beaded design and "Niagara Falls" at the bottom edge.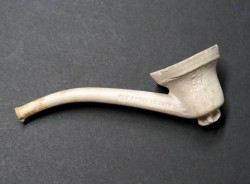 This pipe's bowl is shaped like the Liberty Bell, and has the year 1876 on the stem—the centennial celebration of the signing of the Declaration of Independence. The Centennial International Exhibition, also known as the Philadelphia World's Fair, was held that year. This item was likely sold at a souvenir stand at the fair.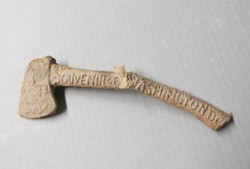 The concept of using actual objects as souvenirs did not completely end when souvenir stands began to spring up. The objects just tended to be acquired in a more formal, legal manner, and they were often formed into a new item. For example, this Washington D.C. souvenir "hatchet" is made of redeemed and macerated U.S. bank notes totaling approximately $7,000 in value, according to the affixed label. It was probably sold at a souvenir shop in or near the Bureau of Engraving and Printing in D.C.
Over the years, relics, curiosities, and souvenirs were donated to museums by people who understood their value as pieces of the nation's story. While some of these objects may not look like much in and of themselves, their associated stories bring them to life and, as a result, the objects help us feel connected to the past. Those in museum collections are now not only "relics", but considered historic artifacts, and will be preserved for future generations.