by Valerie Seiber
The Hershey Lumber Company, the successor of Hershey Improvement Company, operated from 1927 until 1971. Just a few short months after the Lumber Company closed, a fire broke out destroying the building and the majority of the company's records. During its 40-plus years in operation, employees at the Lumber Company made wooden furniture that was sold at Hershey Department Store but also constructed public buildings such as The Hotel Hershey and Hershey Sports Arena. Another segment of the business was private home construction.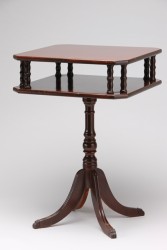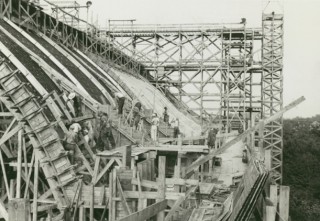 Milton Hershey encouraged home ownership among residents of his community. He felt employees took better care of homes they owned rather than rented. And an attractive and clean community was important to Mr. Hershey.
"The happiest home is the one you own." – Colorful Homes, National Plan Service, Inc., 1935

Hershey Lumber Company catalog, 1935
Recently, The Hershey Story museum acquired a 1935 color catalog of house plans that was available through the Hershey Lumber Company. The brightly colored catalog features over forty-five different home designs and floor plans. Designs include single-story English cottages, two-story Dutch Colonials and even homes with a more modern flair. National Plan Service, Inc., based in Elmhurst, Illinois, published the catalog.
It is unclear how many different styles of homes were actually erected in Hershey based on the drawings in the catalog. If homes were built they are most likely located in the village of Hershey. Click on the picture above to view the entire catalog.
Attention Hershey home-owners! If you find your home in the catalog, please let us know. Send an email to vseiber@hersheystory.org.