by Valerie Seiber
Twenty years ago The Hershey Company (formerly known as Hershey Foods Corporation) was known for both chocolate and pasta. Beginning in 1966, Hershey Pasta Group operated as a division of Hershey Foods. The pasta division held a sizable market share in dried pasta manufacturing that was developed through the acquisition of small, regional pasta companies.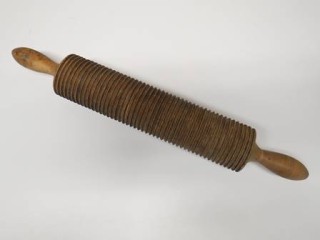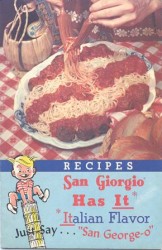 Once considered an ethnic food, pasta consumption began to rise in the 1950s and became a mainstay on the traditional American dinner table. Many of the companies Hershey acquired were founded by Italian or Hungarian immigrants in the early 20th century and included:
1966 San Giorgio Macaroni Company, Lebanon, PA
1966 Delmonico Foods, Inc., Louisville, KY
1973 Giovanni Foods, Greenville, PA
1978 Procino-Rossi Corporation, Auburn, NY
1979 Skinner Macaroni Corporation, Omaha, NE
1984 American Beauty Macaroni, Kansas City, MO
1986 G&R Pasta Company, Philadelphia, PA
1990 Ronzoni Foods Corporation, Long Island City, NY
1993 Ideal Macaroni Company & Weiss Noodle Company, Cleveland, OH
Why did a company known for chocolate and confectionery products decide to diversify its product line?
"… [the company] could grow, but we didn't know how rapidly. Therefore, a diversification into other kinds of businesses would be worthwhile, and you also had protection against huge increases in cocoa. Remember, we were still riding a roller coaster on cocoa bean costs…"
– Richard A. Zimmerman oral history, Hershey Community Archives, 95OH05
After Milton Hershey's death in 1945 and until the late 1960s, Hershey's executives maintained the course that Mr. Hershey had set. But, when William Dearden became CEO, he envisioned a different future for the chocolate company. One of Dearden's goals was to develop a corporate strategic plan, and a result of those planning sessions was diversification.
"In that period, a lot of companies were going into their conglomerate stage of their corporate life. Our management did not believe that people were going to eat more chocolate. They figured that we couldn't grow this company to the extent we wanted to grow it to increase our share price by staying only in chocolate."
– William Christ oral history, Hershey Community Archives, 2013OH11
Why invest in pasta manufacturing?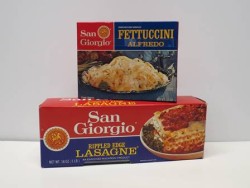 Richard Zimmerman and Whit Simmons were tasked with investigating companies for potential acquisition. It just so happened that they were offered San Giorgio Macaroni Company which was located in Lebanon, Pennsylvania. Upon analysis of the financial statements, it seemed like a good investment. Sale of San Giorgio pasta however was restricted geographically. In order to reach other markets, Hershey Foods acquired Delmonico Foods, Inc. in Louisville, Kentucky.
Delmonico Iron Skillet Supper Box, c. 1980

"Well, the strengths were that we had a lot of good regional brands. The weakness was that we had a lot of strong regional brands. We didn't have one national brand."
– Jay Carr oral history, Hershey Community Archives, 2010OH10
Customers remained loyal to their regional pasta brand thus making it difficult to create a single national brand. Hershey's pasta was distributed under regional brands to every state with the exception of Michigan, Maine and New Hampshire.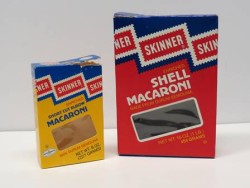 Hershey Pasta was profitable despite the low margin on pasta sales and eventually became number one in pasta. Growing competition from American Italian Pasta Company and Italian exported pasta made Hershey executives realize that their returns had begun to decrease. By 1997, combined sales for Hershey's pasta division were approximately $400 million.

Rather than invest in new machinery that would make pasta more efficiently and give the chocolate company the ability to compete, Hershey Foods executives decided to sell the pasta group while the business was still profitable. In 1999, Hershey Foods Corporation sold its pasta division to the New World Pasta Group for $450 million in cash and retained a minority interest in the business. The transaction included six manufacturing plants and the American Beauty, Ideal by San Giorgio, Light 'n Fluffy, P&R, Mrs. Weiss, Ronzoni, San Giorgio and Skinner pasta brands.