By Lauren Ciriac Wenger
Here at The Hershey Story we are big fans of Valentine's Day, because… chocolate! Chocolate is arguably the most gifted item on Valentine's Day, along with flowers. Although the Valentine's Day card can sometimes become an afterthought next to these, there was a time when the card was the centerpiece of Valentine's Day. The Hershey Story is fortunate to have several vintage valentines in its collection. The cards date from the late 1800s through the 1930s.
Americans began exchanging valentines in the 1700s. These cards were hand made using ink and watercolors. By the early part of the Victorian Era, exchanging Valentines was very popular even though there were no American valentine manufacturers. Instead, Americans purchased English-imported valentines. In 1848, Esther Howland of Worcester, MA, inspired by an English Valentine card she was given, decided to create Valentines of her own to sell. She got many more orders than she imagined she would— $5,000 at first (she had been hoping for $200), and eventually grossing $100,000 annually.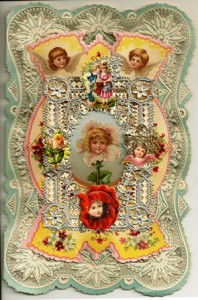 Howland was one of the very first American manufacturers of valentines, and is credited as having popularized the American-made Valentine, as well as inventing several features such as accordion-folded paper springs to create depth and dimension to cards. While this valentine is not marked with the maker's name, it is stylistically similar to Howland's valentines and may have been made by her company. It dates from 1893 and features silver paper lace, embossed paper, die-cut pictures pasted on the top layer, and the accordion-style springs that Howler invented. It is very classically Victorian in style—cherubs, angels, flowers, and lace were typical images of this time period.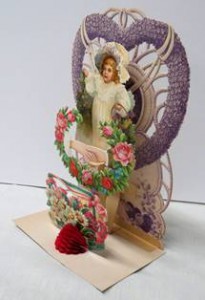 This elaborate fold-out stand up valentine (above) was made in Germany at the turn of the century, around 1900-1915. It consists of several layers that fold out to create a dimensional effect.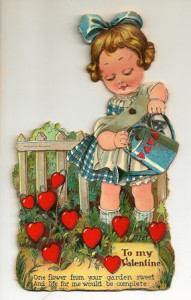 The end of the Victorian era saw new innovations in valentine cards. Vibrantly-colored lithographic prints became popular, often featuring illustrations of children and animals with charming or amusing sayings. "Mechanical valentines" with movable parts made their first appearance around 1890. This mechanical card was made in Germany around 1920. It has a stand so recipients could display it on a table. The little girl's watering can and arms move, making it look like she's watering the garden.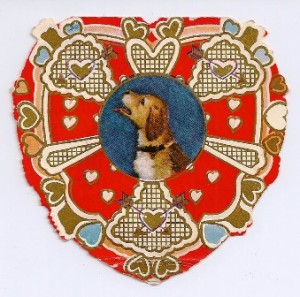 This 1930s valentine was made by George C. Whitney, and is stamped with "Whitney-Made" on the back. Whitney had been employed by Howland, and he purchased Howland's company around 1880. His company was in business for 77 years. This card is very typical of Whitney's Deco era card style.
These intricate and beautiful creations were a highly treasured token of affection exchanged between friends and family. I hope learning a bit about the history of the Valentine's Day card has increased your appreciation for this tradition, as it did for me.
---
Want to make a Victorian style valentine of your own? You will need the following:
cardstock paper
craft paper or scrapbook paper in various colors/patterns
paper doilies
clear drying craft glue
scissors (patterned craft scissors are a nice addition but not necessary)
vintage style clip art (some can be found here http://antiqueclipart.com/)
Extras:
metallic paint pen (for borders, designs, and messages)
metallic acrylic paints
paint brush
Directions:
You may want to paint doilies with metallic paint for added effect. Fold cardstock if making a single-fold card, or cut a rectangle of cardstock in desired size if you prefer a postcard style. Layer desired sizes of scrapbook paper and doilies on front of cardstock. Add clipart as desired. Be creative! There is no specific design you must follow.