by Kathryn Kaslow
It is easy to take timepieces for granted. Our wrist watches, phones, and even our microwaves display the time. However, the ability to instantaneously know the time down to the exact minute and second has not always been a mainstay of American society, as illustrated by The Hershey Story's collection of Pennsylvania German clocks and pocket watches.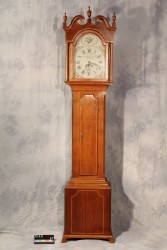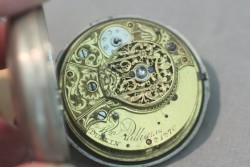 Most ordinary Americans did not have clocks in their homes in the eighteenth and early nineteenth centuries. They marked their time by the sun, and owning a clock, which indicated wealth, was not essential. The Lancaster area was originally a part of the poor rural frontier, but by the late 1700s, it had become a prosperous center of manufacturing and even briefly served as Pennsylvania's capital, allowing the local clockmaking industry to thrive.  One of the area's most prominent clockmaking families was that of Christian and Jacob Eby, who are thought to be either brothers or father and son. They lived in Manheim, just outside of the city of Lancaster, and specialized in making grandfather clocks, then known as tall clocks. Although pocket watches were made almost exclusively in Europe during this period, the Ebys did occasionally foray into pocket watch repair.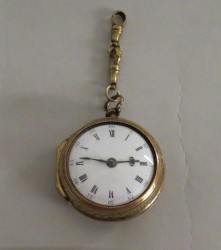 However, in the early 1800s, Pennsylvania clockmaking began to decline. Clockmakers in industrialized New England started to sell mass-produced clocks that were more affordable than the handmade Pennsylvania clocks. Unable to compete but very much aware of the need to keep accurate time, especially with the development of the railroad and its strict schedules, Pennsylvania clockmakers turned their attention to pocket watches. One local watchmaker was John Oenslager, a German immigrant who arrived in the United States in 1833 at age 13. He started his apprenticeship with Harrisburg jeweler and clockmaker George J. Heisley two years later.
Heisley, a veteran of the War of 1812, is better known for his musical abilities than he is for his clocks. After the fighting at Ft. McHenry in Baltimore, Maryland, soldiers Ferdinand and Charles Durang, suggested putting Francis Scott Key's poem "The Star Spangled Banner" to the tune of a popular British drinking song called "To Anacreon in Heaven." Heisley took out his flute and delivered the first performance of the song that would become America's national anthem. By the time Heisley met Oenslager twenty years later, Heisley had become a businessman, his soldiering days long over. After studying under Heisley for about seven years, Oenslager ended his clock-making career and went on to manage real estate. He became an ardent abolitionist, and when the Civil War broke out, Heisley was also swept up in the excitement. He soon joined the Pennsylvania militia, resuming soldier life once again.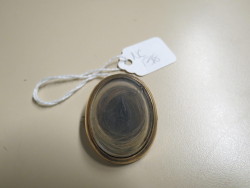 However, war brought death and mourning to the nation. Wearing special mourning jewelry, which ordinary individuals could easily afford due to mass production, became a common occurrence. The practice was also popularized by Queen Victoria, whose apparel and jewelry reflected her continual state of mourning over the loss of her husband Albert. Women's mourning jewelry included rings, lockets, and brooches that commemorated the dead, and men would wear mourning pocket watches. Usually dark in color, mourning pocket watches often had braided chains made from the hair of the deceased. After the Victorian era, mourning pocket watches began to fall out of fashion, a decline aided in part by the development of the wrist watch, but the practice was still common enough that when Milton Hershey's wife, Kitty, passed away in 1915, he received a mourning pocket watch from the mortician.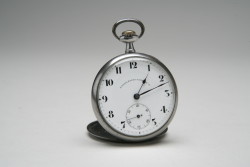 Hershey's mourning pocket watch and the timepieces of George Heisley, John Oenslager, and the Eby family reveal the changing nature of clocks and pocket watches in early America. Susquehanna Valley tall clocks indicated luxury and celebrated Pennsylvania German culture. After industrialization and the advent of the railroad, Victorian timepieces represented a different kind of culture, and pocket watches became a common expression of personal taste and the stage of life that one was going through. The Hershey Story's timepieces serve as a window into this changing cultural era.
Kathryn Kaslow is The Hershey Story's collections intern.  Currently a senior history major at Messiah College, she plans to attend graduate school for public history and museum studies.  She is originally from Gettysburg, Pennsylvania, and enjoys musicals, traveling, and reading.