by Valerie Seiber
Born in 1875, on a farm in Fishing Creek Valley, Dauphin County, Pennsylvania, Amanda Straw would become a well-known and celebrated model of her time. The young beauty at 5'4″ tall with hazel eyes, light brown hair, and "an exquisite figure" was well positioned socially but she desired a different life than the one to which she was born.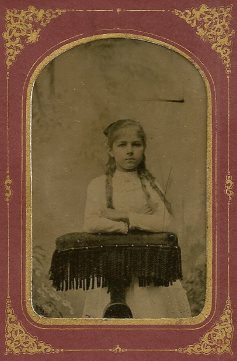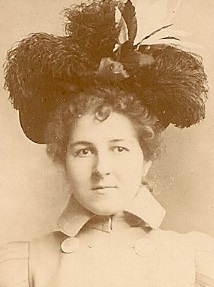 As a model she traveled the art circuit to different cities including Buffalo, New York, Cleveland, Ohio and Chicago, Illinois where she posed in costume (for $18) and in the nude (for $27) for art students at various schools.  Postcards in her scrapbooks document her travels. Straw moved to Philadelphia, and after a year of business classes that were not to her liking, she answered an ad for vaudeville "living pictures" performers.  Around this time she chose the stage name Madeline Stokes.  One special performance included working on a New York roof-top garden, Jardin De Paris.  She was clad head-to-toe in nothing but enamel (Straw later described this as lard) to symbolize a white goddess. That job earned her $5.00.  Her vaudeville work eventually led to a career as a professional artists' model.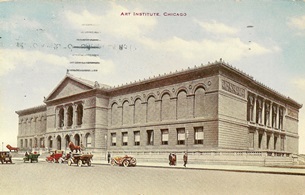 Postcard, Oct. 27, 1911, Chicago:
My last week at this school [Art Institute of Chicago]. Sorry to go; my time all booked to April 27. Will write you from Rochester next week. Love to all.  – Mandy
Her ability to hold a pose for long periods of time (up to 25 minutes) made her a sought after model. In fact, she once posed for a grueling nine hours so that a plaster cast could be made. As her reputation grew, she sat for artists including George Gibbs, N.C. Wyeth, and Alexander Stirling Calder. Her likeness was portrayed on the covers of popular magazines such as The Delineator and Ladies Home Journal. In 1903, Calder immortalized her in stone for his "Sundial" in Fairmont Park, Philadelphia.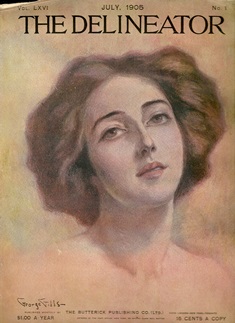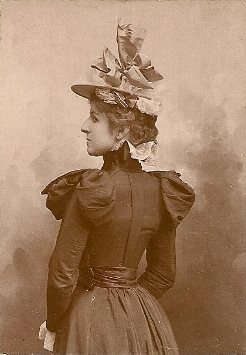 "My first and last profile; the nose is too large. Manda May '96
Giuseppe Donato, an Italian sculptor also working in Philadelphia, used Straw as a model for his fountain, "Dance of the Eternal Spring."  Commissioned around 1910, by Milton and Catherine Hershey, the fountain was to adorn the gardens of their home, High Point.  After two years of work, Donato presented Mr. Hershey with the fountain which consisted of three nude dancing nymphs holding an infant aloft and a bill for $31,000.  Ten times the amount Mr. Hershey initially agreed to pay!  Mr. Hershey refused delivery of the fountain and it remained crated in storage at the railroad station.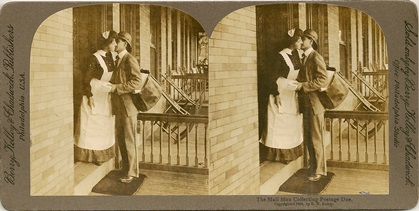 Ultimately, Donato successfully sued Milton Hershey and was awarded $25,000 in compensation for "Dance of the Eternal Spring." The November 1915, trial pitted the two men against each other.  Donato testified that Mr. Hershey verbally approved of the increase in price, while Mr. Hershey strongly maintained that he had done no such thing.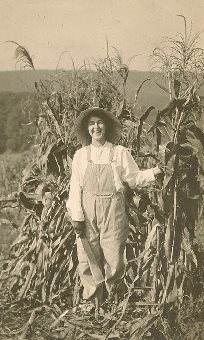 What is not reflected in the newspaper accounts of the era is that Milton Hershey's wife, Catherine, had died eight months earlier in March.  Could she have been the one to increase Donato's budget without consulting her husband? Perhaps.  But, during the trial, Mr. Hershey would have been still grieving the loss of his beloved wife and he may have just wanted to put an end to the whole affair.
Hours after the conclusion of the trial, Mr. Hershey conceived of a plan to rid himself of "Dance of the Eternal Spring" and gave the fountain to the capital city of Harrisburg, Pennsylvania.  It was originally installed in Reservoir Park.  Later the fountain adorned the rose garden at Polyclinic Hospital.  A tradition began that on the eve of graduation, the nurses dressed the three nymphs in lingerie.  In 1971, the fountain was removed to make way for a parking facility and it was placed in storage.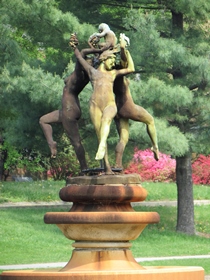 In March, 1971, retired cover girl Amanda Straw (aka Madeline Stokes) attended a Harrisburg city council meeting.  She was now 95 years old, but still as charming as ever. Straw successfully persuaded city council to permanently install "Dance of the Eternal Spring" at Italian Lake Park, where it remains to this day.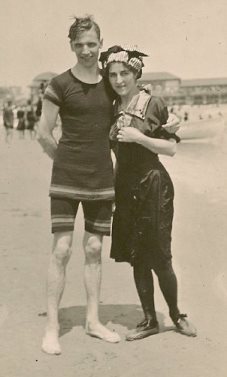 Upon her marriage to artist, Albert F. Snyder in 1914, Straw retired from modeling.  She and her husband lived near Utica, New York on the Snyde-Brook Farm.  After Albert died, she returned to Fishing Creek Valley where she was born.  Looking through her scrapbooks held in The Hershey Story's collection, you can catch a glimpse of the woman, the model, the animal lover, and the art lover that Amanda Straw Snyder (aka Madeline Stokes) was.  She reflected on her twenty year career as a model in a newspaper article a year before her death, "I enjoyed the art schools the most…and associating with the students."