by Lauren Ciriac Wenger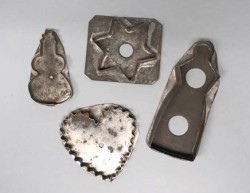 It may seem like Christmas traditions that we cherish have been around forever. The Christmas tree, sending Christmas cards, exchanging gifts, and Santa Claus traveling on his sleigh pulled by reindeer are central parts of many Americans' Christmas celebrations. But Christmas as we know it today developed in the not-too-distant past during the 1800s. The Hershey Story has many objects in its collections that represent this time in history.
The roots of Christmas
People were celebrating the concept of life and light in the depths of winter even before the birth of Jesus. The Norse people had the Yule celebration around the time of the winter solstice. They carried evergreens indoors as a remembrance of life during the darkest time of the year. They also burned Yule logs, which represented light and good fortune. Before Christianity, the Roman Empire celebrated during the time of the solstice as well with the festival of Saturnalia, a time of merrymaking.
The birth of Christ was first officially celebrated as a holiday in the middle of the 4th century in Rome. Over time, different countries developed their own traditions to mark winter celebrations. America was settled by people from many different countries and, as a result, the Christmas holiday has been influenced by these varying backgrounds. Our modern Christmas is a mix of various cultural traditions, including English, Dutch, and German, which then developed further within America into the traditions we are familiar with today.
Christmas was not a legal holiday in any of the states until the 1830s, and was not declared an official federal holiday in America until the 1870s. Prior to this time it was not celebrated with the same fervor as we are accustomed to. When the Puritans settled here, they did not bring Christmas traditions with them. In fact, they deemed it frivolous, taking up time that could be better spent working. On the other hand, Dutch settlers in New York brought with them jolly Christmas celebrations including the belief in Sinterklaas or Sint-Nicolaas, who would leave children gifts in stockings or shoes. Southern settlers were influenced by England, which had Christmas traditions such as visiting friends and family, a Christmas dinner of decadent food and drink, games and music, and burning the yule log.
A visit from St. Nick
Several beliefs, based in history and folklore, came together to create the American version of Santa Claus. The strongest influence is Saint Nicholas, a Greek man who lived during the 3rd century in what is now southern Turkey, and gave up his entire inheritance to support the poor and needy. He became Bishop of Myra, and many miraculous deeds and generous acts were attributed to him. As the centuries passed he was celebrated in many cultures in Europe and East Asia. With a focus on gift giving and a feast day of December 6th, he became connected to the Christmas season.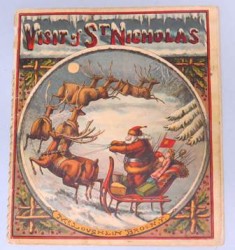 His story came to the New World with the Dutch in New Amsterdam (now New York), and again later with Germans in Pennsylvania. But it was not until 1822 when Clement Clarke Moore's A Visit from St. Nicholas was published in the Troy Sentinel that he became the mainstream figure of the season. Best known by the opening line, "'Twas the Night before Christmas…" the story was reprinted many times in other newspapers, and is considered the beginning of Santa Claus as we know him today.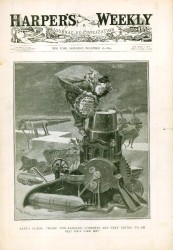 St. Nicholas continued to evolve as more writers published stories of him and illustrators drew their own renditions. The political cartoonist Thomas Nast regularly drew him in Harper's Weekly from the 1860s through the 1880s and based his illustrations on the descriptions from Moore's poem. Nast's work helped establish what Santa looks like today, and also helped popularize the name "Santa Claus," an Americanized version of the German name "Sankt Niklaus."
Oh Christmas tree…
Evergreens have been used to symbolize life in the middle of winter since ancient times, but it was in Renaissance Germany that the decorated Christmas tree originated. According to legend, Martin Luther, inspired to recreate the image of a pine tree against the back drop of the stars, brought a tree indoors and added lit candles. Whether or not this is true, the Christmas tree became a traditional German practice, and spread with emigrants to the American Colonies. Most English settlers were uninterested in the tradition until the 1850 Godey's Lady's Book featured an image of Queen Victoria and Prince Albert with a Christmas tree. Victorian era life in America was influenced by the royal family's ideas and fashions. In the next several years, the Christmas tree tradition would take hold throughout America as a central part of the Christmas season.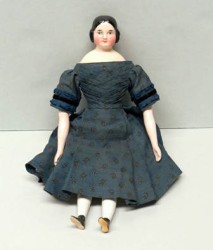 Brown paper packages tied up with strings…
Prior to the 1870s and 1880s, Christmas gift-giving was not a large focus of the holiday. Many families in America continued the tradition of St. Nicholas Day on December 6th. Children would leave their stockings or shoes out, and St. Nicholas would place small gifts such as coins, fruit, or candies inside them.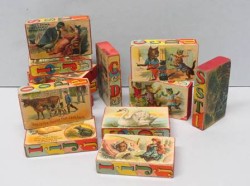 During Victorian times, with the increasing popularity of Santa Claus, more elaborate Christmas presents were placed under the tree for Christmas Eve or morning. Also during this time, a focus on the importance of childhood emerged, including the need to nurture and educate children. With this, Christmas became more focused on children.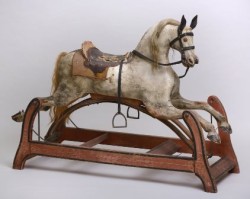 Typical children's Christmas presents were wooden toys such as soldiers, pull toys, spinning tops, figurines, blocks, and rocking horses. Dolls, games and books were also very popular, as were winter clothes and accessories such as mittens. Candy, fruit, and other sweet treats were still commonly given as well. Seen here are just a few of the many 18th and 19th century toys from The Hershey Story's collection.
Sending Christmas cards
On May 1st, 1843, Sir Henry Cole, of Great Britain, commissioned John Callcott Horsley to create the first recognized commercial Christmas card. It pictured his family in the middle toasting with wine, and acts of charity on the sides. Over 2,000 were sold that year.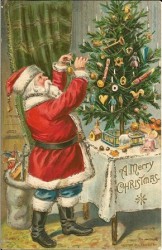 Cards quickly became popular all over England, featuring animals, children, plants, and fairies with Bible verses and Christmas carols. A British lithograph company, Prang and Mayer, brought the first Christmas cards to the U.S. in 1873. Many printers soon joined the booming business. The popularity for elaborate Victorian styled cards waned at the end of the 1800s, as Christmas postcards gained in popularity. However, folded cards became more popular again in the 1920s after the company Hallmark was founded.
Cookies and Carols
Christmas candies and baked goods—especially Christmas cookies— have long been a part of the holiday season. Brought to us by the Pennsylvania Germans, the lebkuchen is one of the oldest Christmas cookies. It is similar to gingerbread and often made in festive shapes or stamped with cookie molds.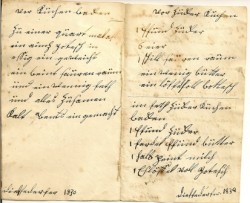 Carols first arose out of Christmas hymns and Wassailing tunes. Some well-known carols are older, like "O Come, All Ye Faithful," first sung in German in 1760, and translated to English in 1841. Many carols, however, were written in the 1800s, such as "Angels from the Realms of Glory", written in the early 1800s by James Montgomery. During the Victorian era, several carols were recorded on phonograph records. Families could gather in their parlors to listen and sing along. You can listen to phonograph recordings of "Angels from the Realms of Glory" here, and "O Come All Ye Faithful" here (Credit: University of California, Santa Barbara Library.)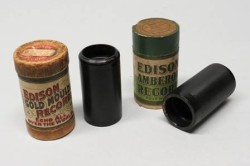 As you can see, we can trace the roots of many of our current Christmas traditions back several centuries, but they truly began to take hold and blossom during the 1800s. The Hershey Story's historic artifact collection is full of mementos of Christmases past.