by Valerie Seiber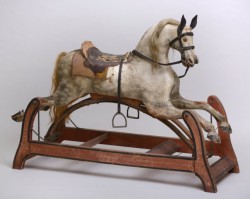 Hot and lazy summer days have me thinking about my own childhood and how I cherished those care-free days spent in a world of fun and make-believe. The Hershey Story's Pennsylvania German collection contains many fantastic examples of children's toys from the 19th and 20th centuries used to create their own world of play.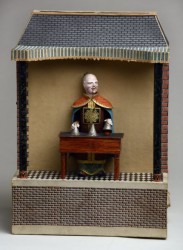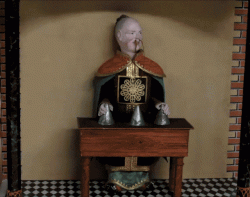 The concept that play and childhood are a fundamental stage of human development is a relatively recent construct. For children who lived prior to the 18th century, life was a struggle to endure. From a very young age children were expected to work to ensure the family's survival. There was little time for education or play. Not until the end of the 19th century did the child become a cherished part of the family to be nurtured and protected. Childhood was viewed by the Victorians as a natural stage of human development, and play became a principal component. Toys were used to teach children about the world and their role in it.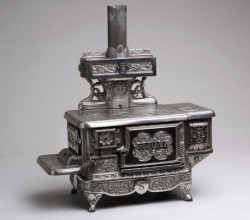 Toys were often miniature versions of their grown-up counterparts. Toy stoves, tea sets, irons and sewing machines were playthings for girls, but they were also educational tools that prepared them for their future roles as wife and mother. They taught girls how to manage domestic activities such as cooking and laundry.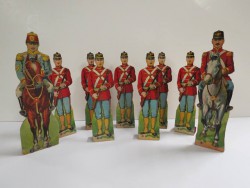 Boys' toys were designed to promote creativity, strength, courage and leadership. Typical toys for boys included block and soldier sets.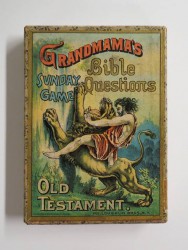 Some toys were designed to reinforce moral and religious lessons. Others were used to expose children to the larger world. Toys and games depicting images from Asia, India and the Middle East would have seemed very exotic to young minds.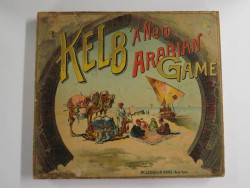 "Kelb, A New Arabian Game" is based on the Egyptian game senet. It is similar to checkers but uses a 5×5 square configuration rather than checkers 8×8 arrangement. The object of the game is to capture your opponent's discs or kelbs.
Homemade Toys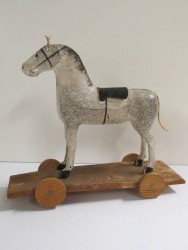 Early toys were made at home from left over scraps of material. While primitive by today's standards, they were beloved by their owners. The wooden horse (only 5.25" tall) is hand-painted and has a leather tail and ears. The saddle is paper that has been adhered to the body. Rag dolls were popular with little girls. Girls could practice their sewing skills by making a doll either for themselves or a younger sibling.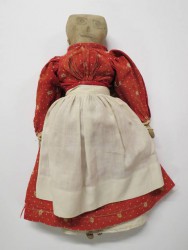 The doll pictured here (and the stove pictured above) was owned by Frances Wolf of Lancaster, Pennsylvania. In her 1953 letter to the museum's curator, Mrs. Wolf describes her toys as "her dearest treasures."
The wooden snake was made by J. Wallace Brungart of Glen Rock, Pennsylvania. As a young boy growing up on a farm in Center County, Brungart spent time with a local carpenter. It was there that he learned woodworking skills that enabled him to make toys, puppets and models.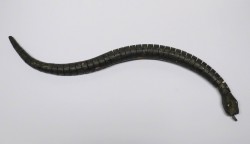 The snake's body is comprised of wooden discs, split into two halves. The halves are joined to a piece of fabric which gives the snake flexibility.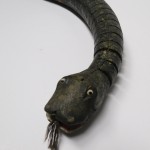 Industrial Revolution
In the post-Civil War years, factory-made toys began to replace most home-made playthings. Mass production and technological advances in printing combined with cheap materials like paper and tin made toys more affordable.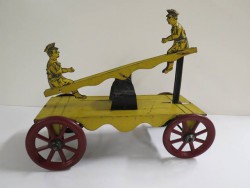 Companies like McLoughlin Brothers, Inc. and Parker Brothers began to focus solely on manufacturing toys. McLoughlin began as a publishing firm in New York. After perfecting the chromolithography process they added toys and games to their product line. Chromolithography produced vibrant colors which was very appealing to youngsters. McLoughlin was eventually sold to Milton Bradley in 1920.