By Lauren Ciriac Wenger
Every so often the collections staff at The Hershey Story acquires an object that stands out because of its rarity, beauty, or history. Sometimes, it's all three. In 2011 we received a set of 36 hand-painted, c. 1920s plates, made by the Royal Doulton Company of London. This is an exciting acquisition, as they represent Hershey history in Cuba, a part of our collection we are trying to grow.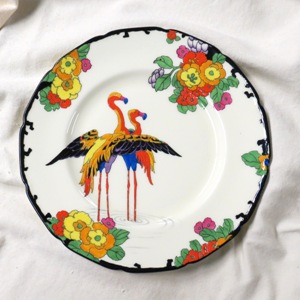 Many people don't know that Milton S. Hershey not only built the famous town of Hershey, Pennsylvania, but also a town called Central Hershey in Cuba. Here, sugar was milled and shipped to Hershey, PA to be used at the chocolate factory. Like his Pennsylvania town, M.S. Hershey created a place for his Cuban employees to enjoy work and life.
In 1921, Percy Staples was hired as the comptroller of Hershey's Cuban holdings. He and his wife, Eliza, resided in Cuba until 1944, when they returned to Hershey, PA. The plates reportedly belonged to the Staples during this time, a gift to them from Milton Hershey.
Cataloging artifacts requires a great deal of research. It's kind of like being a detective, except you're solving historical mysteries instead of crimes. At the library I found an advertisement for the Staples' estate auction in a local newspaper from 1957. It specifically lists a set of Royal Doulton hand-decorated china from the Staples' Cuban home.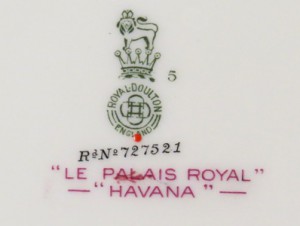 Next, I needed to find out as much information as possible about the plates themselves. Markings on the underside of the plates revealed the year of manufacture as well as the name of the artist, Robert Allen. His studio produced thousands of patterns, many of which were never repeated.
I determined that the plates likely belonged to the Staples' while in Cuba. We can't be 100% sure whether or not Mr. Hershey gave them to the Staples, but it is not hard to imagine that a man famous for his generosity would present this lovely set to someone he regarded so highly.