By Lauren Ciriac Wenger
Easter is a popular holiday throughout the world and second only to Halloween for candy purchases in the United States. But did you know that Pennsylvania German settlers are credited with introducing some cherished Easter traditions to America? With two of The Hershey Story's collections focusing on chocolate and Pennsylvania German culture, it's no surprise that the museum has acquired several Easter-themed artifacts over the years!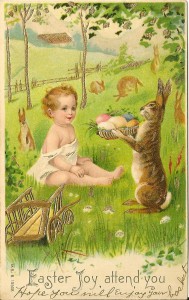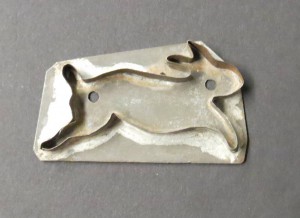 When Germans immigrated to Pennsylvania in the 1700s, they brought with them many long-held traditions, including several associated with Easter. An increasing number of people observed these traditions during the 19th century, not only within the German population but throughout the United States. One such tradition was the story of the Easter Bunny, or Osterhase ("Easter Hare"). The first known reference to the Osterhase was seen in German literature from the 15th century.  Bunnies, and another familiar Easter icon, the egg, are symbolic of fruitfulness and the springtime season. During the 1800s, Pennsylvania German children would fashion nests in which the Easter Hare would lay its eggs as a surprise on Easter morning—as long as the children were well-behaved! Today, children still wake up to filled baskets of goodies on Easter morning.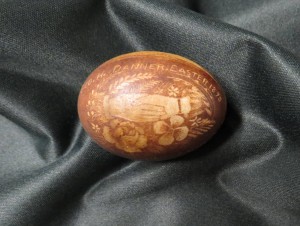 Though decorating Easter eggs is not exclusively a German tradition, it grew in popularity with Pennsylvania Germans during the 1800s, and they played a part in introducing the custom to the U.S. They had their own particular style of decorating that featured folk art motifs like flowers, hearts, and birds. The eggs were colored using natural dyes from plants. Designs, often elaborate, were drawn onto the egg with wax, and then the egg was placed into the dye. Onion skin, the most commonly-used plant, produced a red-brown color.  Another way to decorate eggs was through scratch art. The eggs were dyed a dark color and designs were scratched into the surface with a pin. Interested in dyeing Easter eggs the old-fashioned way? Click here and here.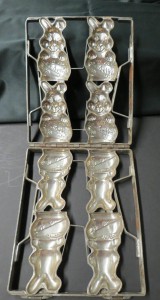 Real eggs eventually gave way to chocolate confections as the treat of choice for Easter nests and baskets. In the mid to late 1800s, Easter chocolate (mostly varieties of hand-made chocolate eggs) became popular in major U.S. cities. Then, during the early 1900s, chocolate makers—including the Hershey Chocolate Company—created chocolate bunnies, eggs, chicks, and other Easter themed shapes using metal molds. Molds allowed manufacturers to create Easter candy on a mass scale, and demand continued to grow. Today, stores stock an extensive variety of Easter candy, not to mention the treats available at privately-owned confectionery shops!