by Valerie Seiber
It's been a few months since our last blog post so I wanted to update our readers as to what the collections staff has been up to lately. Many museums have large collections that are stored off-site and The Hershey Story is no different. After all, part of the museum's mission is to preserve the history of The Hershey Company, which includes some pretty big machines for making chocolate!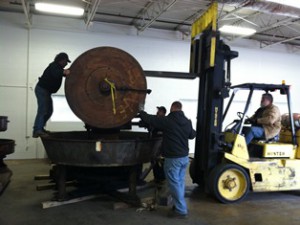 Storage conditions in the existing building were not ideal. The space was crowded and dark, which made for unpleasant working conditions. After a tour of the building, the executive director vowed to find an improved building and asked what was needed to preserve the collections.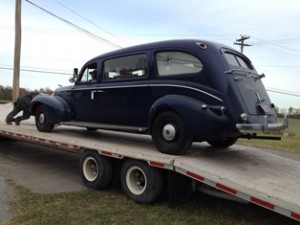 At the beginning of 2013, the museum staff began to formulate a plan to move the collection to an improved facility and better preserve the largest artifacts in the museum's collection. We began by estimating the required square footage and defining security and environmental needs. A building that met the specifications was identified. After some renovations which included updating the HVAC system, installing window coverings and a fresh coat of paint, the building was ready to occupy. Given the size and weight of the artifacts to be moved, a solid plan was required before a single piece was relocated. Some of the items included a 20,000 pound roll refining machine and a 14,000 pound melangeur, both used to make milk chocolate.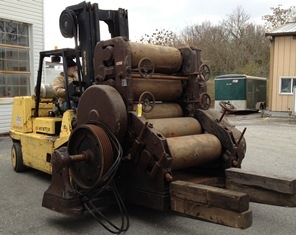 The museum's collection also included other non-chocolate related objects, like a 1939 LaSalle ambulance from the Hershey Hospital, a horse-drawn steam pumper used by the local fire company, and a rollercoaster car from Hersheypark.  A plan that strategically placed each artifact was developed. The museum's staff would not be able to rearrange artifacts once the moving crew finished the job.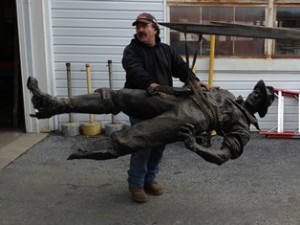 Prior to moving, the museum's staff color-coded and tagged all the artifacts with their new locations.  On a chilly November morning, the big day finally arrived!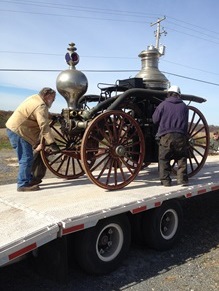 Over a two week period, the crew moved 115 artifacts into improved storage conditions. Of course there were challenges along the way. For example, two totem poles were too tall to stand upright in the new building as planned. After much discussion, the moving crew came up with an ingenious rigging system to suspend them from the building's ceiling trusses.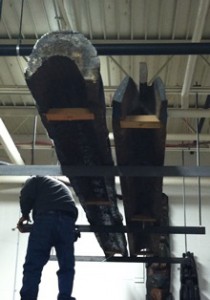 Ultimately, the project went smoothly and was a complete success! However work for the staff has not ended, our next task is to update the museum's records, catalog and photograph the artifacts in their new home.