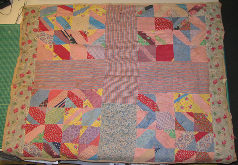 This patchwork quilt was made and owned by a woman named Irene who lived in South Carolina during the early 1900s. The quilt was passed through her descendants to granddaughter Maria, who felt it would be best preserved in a museum. Although it is bright and colorful, the quilt was not made to be decorative, but instead used for its fundamental purpose—warmth. Throughout the years, it became a symbol of family relationships, manufacture, economy, and handiwork.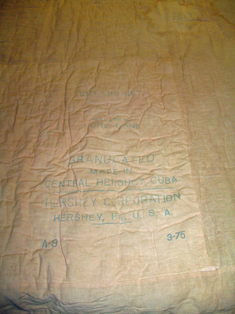 It is, in fact, not one but two quilts. The original quilt, c.1915, sits inside. When that quilt grew thin and tattered, another was created around it. The exterior quilt consists of various patterns of fabric, predominantly floral and stripes. Historically, quilts were made from scraps of material left over from other projects and old clothes that could no longer be worn. Irene used squares cut out of newspaper to fashion a pattern, which was then sewn to the fabric. Maria's aunt recalls taking part in the quilt's creation by later removing this paper from the fabric. Irene and her husband Ferber owned a general store, and, as times were tough, sugar sacks from their store were recycled as the backing for the exterior quilt. The sacks just so happen to be from Central Hershey, Cuba.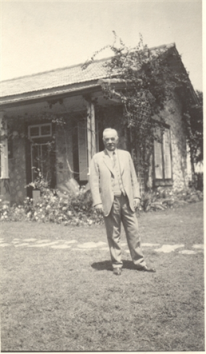 Due to rationing, sugar was scarce during WWI. Milton Hershey decided an efficient, money-saving solution would be to import sugar directly to his chocolate factory from the source. In 1916, he began buying sugarcane plantations in Cuba, a place he was already quite fond of because of its lovely, sunny weather. He established a sugar refinery, and a town known as Central Hershey. Hershey's Cuban holdings included 60,000 acres and five sugar mills. Following in the footsteps of his Pennsylvania town, he built a community for his workers, which included recreational facilities, a hotel, a railroad spanning 251 miles, and the Hershey Agricultural School for orphan boys (similar to the Hershey Industrial School in Hershey, PA). This historic film shows the events of an Agricultural Exposition near the mill in Central Hershey.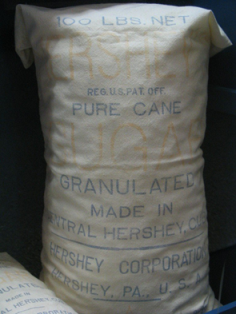 Creating quilts and garments out of commodity bags, such as flour and sugar sacks, was common during the Great Depression and the World Wars. Even so, prior to this example, The Hershey Story had only one object showing this use: an apron made from a Hershey Cuba sugar bag. The quilt is a valuable addition. Within its fabric, it tells the stories of the Depression and war years when goods were scarce, Hershey's Cuban sugar holdings, and most importantly, it carries a family's memories and history.