by Valerie Seiber
"What is your favorite artifact in the museum's collection?" With nearly 30,000 objects to choose from, it's hard to pick just one. After all, having worked with the collection for over a decade, I have lots of favorites.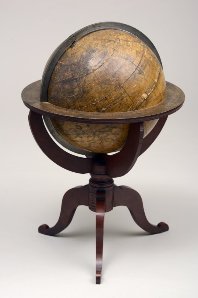 One of these favorites is an 1834 terrestrial globe made in nearby Manheim, Pennsylvania.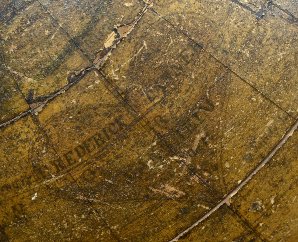 The globe is about 24 inches high and rests in a turned wooden stand with delicate cabriole-style legs. The paper covered wooden orb has hand-drawn continents, oceans, and cities. The horizon ring records climatic zones, astrological and calendar designations, and cardinal directions; the bronze meridian is etched in degrees.  A heart-shaped emblem situated in the Pacific Ocean contains an inscription.
"FREDERICK DANNER, MANHEIM, August the 12, 1834"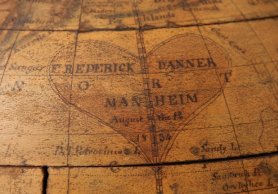 According to the museum's records Frederick Danner illustrated the paper panels of the globe, and his brother Daniel, a wood turner, created the orb and stand. Frederick is listed as a clergyman in census records, and family members recall that he was also a school teacher. Born in 1805, Frederick made this impressive globe when he was just 29 years old.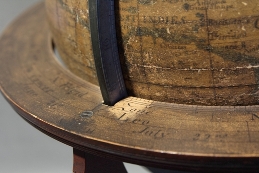 When I first encountered the globe many years ago, the surface was darkened with grime and pollutants.  The continents were difficult to discern and the wording indecipherable. The orb had been wedged into the stand and was frozen in place. I could only imagine the many fingers over the past 150 years that once gave it a gentle spin and grazed its surface in search of some distant land.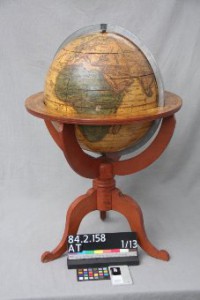 For many years the globe remained in the museum's storage facility and was not publicly displayed.  While organizing an exhibit earlier this year, I had the opportunity to use the globe to interpret 19th century education. Knowing it needed a thorough cleaning and the joinery of the stand had separated, I enlisted the services of a local conservator.
When the conservation team returned the globe, I could not believe the transformation. The years of grime had been removed. Now the surface had a warm glow, one could actually read the place names, and the African continent was a delightful shade of green! Surprisingly, tears welled up in my eyes. (It's not often that I have such an emotional reaction to an artifact!) But it was beautiful; the globe had been returned to its former glory, a unique collaboration and demonstration of 19th century craftsmanship and artistry.